Winter is coming and Christmas too. Are you ready for a visit to Disneyland® Paris for these magical days?  I heard that Santa Claus will also be present at the Explorers Hotel! For this occasion, we will stop at the port to welcome him (as you must).  If by chance you have booked your stay aboard the Explorers, you will have the privilege to discover a lot of activities for all the family, children and adults alike, and a menu adapted for the occasion!
I, Archibald, Captain of the Explorers have the pleasure of introducing to you our Christmas Program and menu that I have prepared especially for all the brave sailors:
Christmas at Disneyland® Paris: much more than a festive meal, an experience.
Choosing the Explorers Adventure means choosing the conviviality of a moment of celebration, the guarantee of unforgettable memories around Disneyland® Paris, and the happiness to see smiles on your children's faces. And for that, believe me, Captain Archibald has more than one trick in his sack!  Starting with the kitchen. The greatest sailors are also great gourmets and adventure requires a full stomach!
The all-you-can-eat buffet at our restaurant 'La Plantation' has been reworked for the pleasure of confirmed sailors as well as intrepid adventurers. 
Our Chef and his crew invite you to discover the essentials of the end of the year, with their oysters, prawns, whelks, razor clams, moules marinées and tasty lobsters, enough to whet the appetite of all intrepid seafarers. You will also have the pleasure of tasting foie gras, salmon, gourmet salads with smoked duck breast and small special verrines. Not to mention the assortment of terrines, pâtés and their delicious 'surprise' breads. For more copious dishes, you can discover our Roasted turkey with cepes sauce, our Filet of Cod with Champagne butter or our Ham braised on the bone with orange and canelle sauce! As an accompaniment, you will have the pleasure of enjoying our Confit potatoes with onions and chestnuts, our vegetables with Girolles and Pine nuts, or our creamy risotto with feves and parmesan cheese.
For our apprentice sailors, a special menu will offer them Tender Chicken, Fish and Chips, Masagna Bolognese, Crinkles Cut Chips, meat balls in tomato sauce or Cheese Pizza.
To finish this meal as you should, the choice will be tough! The must-see Christmas Logs will be on board with, among another things, Cascades of fresh fruits or a selection of Christmas Pastries. There will also be sweet verrines or assortment of desserts and many delights that you will find on the menu.
Need more information? This is the Christmas menu at the 'Plantation' Restaurant: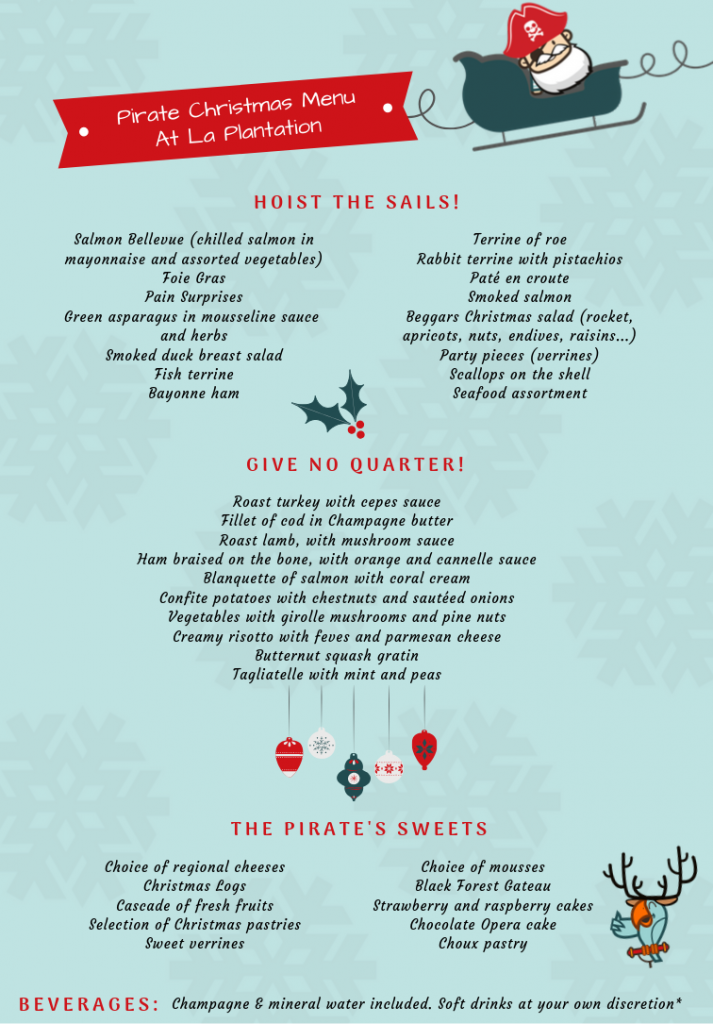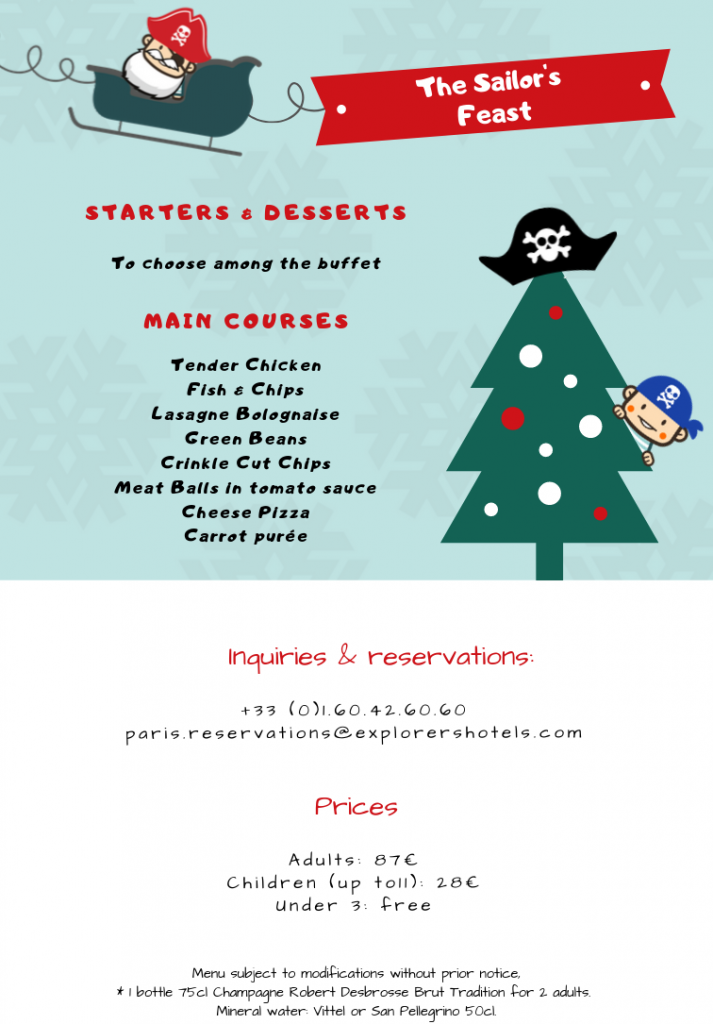 Don't forget to book your Christmas Dinner!
To enjoy this delicious family meal, don't forget to book your Christmas dinner at the Plantation buffet for the evening of December 24th! We encourage e-mail's or phone calls, as pigeons often get lost above the sea… poor beasts!
So nothing simpler, contact our reservations service on 01.60.42.60.60 or 01.60.42.60.61 or by email at paris.reservations@explorershotels.com.
Our all-you-can-eat desserts, dishes and starters are priced at 87 euros per adult and 28 euros per child. The Christmas buffet will take place in two services by reservation, namely the 6 p.m. sitting and the 9 p.m. sitting. You can also enjoy a delicious meal at our Captain's Library restaurant, which will open from 6 p.m. to 10 p.m. and offer its usual winter menu. On this occasion, Marco's pizza will be closed.
Discover our restaurants, the Plantation, with a all-you-can-eat buffet: https://www.explorershotels.com/restauration/restaurant-buffet-plantation/
And the Captain's library, a more traditional restaurant: https://www.explorershotels.com/restauration/restaurant-captains-library/
On December 24

th

, experience our special Christmas activities with your family!
Docked on the outskirts of Disneyland® Paris, our ship will have the honour of welcoming Santa Claus, between 5:30 p.m. and 11 p.m. for the pleasure of mosses and filibusters! He will be waiting for you at the restaurant 'La Plantation', which will allow you to enjoy his presence during your meal. Take advantage of this special moment with your family to capture this wonderful experience.
In addition to the presence of Santa Claus, workshops and activities will be on board between 5:30 p.m. and 11 p.m.!
Here's what the Captain propose you on board: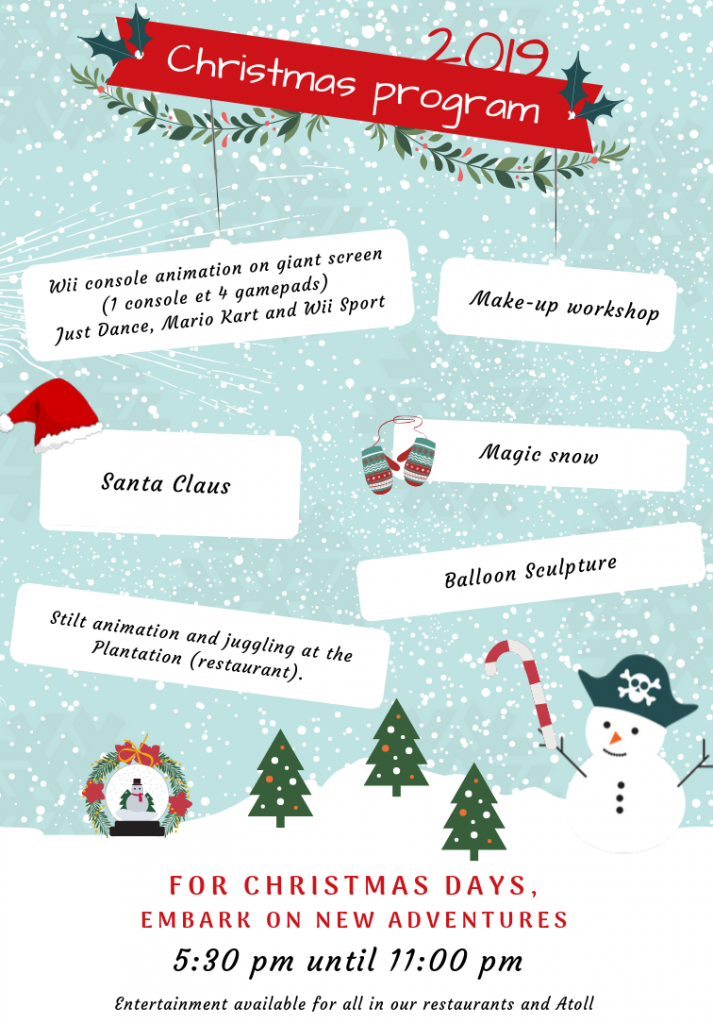 "Believe me, I have seen ferocious pirates on my travels. But they fall under the spell of The Magic of Christmas, when it invades my ship. On board, no one can resist!" From the memoirs of Archibald, Captain of the Explorers.