Tic, Tac, Tic, Tac, Christmas is approaching fast and it is time for the Explorers Hotel to embark all its crew for wonderful and warm end-of-year festivities.
For this, you can count on SirArchibald who has prepared an exceptional evening for you on December 24, 2022.
The magic of Christmas will take place at the hotel on December 24, 2022!
La Plantation restaurant offers an all-you-can-eat buffet so elegant and tasty, for the pleasure of pirates and brave sailors.
To start, our Chef has selected the Christmas essentials for you: oysters, shrimps, whelks, and also foie gras and smoked salmon. Among the plates, you will have a wide choice to seduce all the differents tastes! A Christmas Eve meal can't be over without the famous log cake with several sweet verrines.
To delight the little ones, our chef has also concocted a special menu with a selection of tasty dishes and delicious desserts.
ANIMATIONS
To make the experience even more unique, Sir Archibald decided to do something special! Entertainment for the whole family will punctuate the evening. Santa Claus will also be here to share with you a magical and unforgettable moment.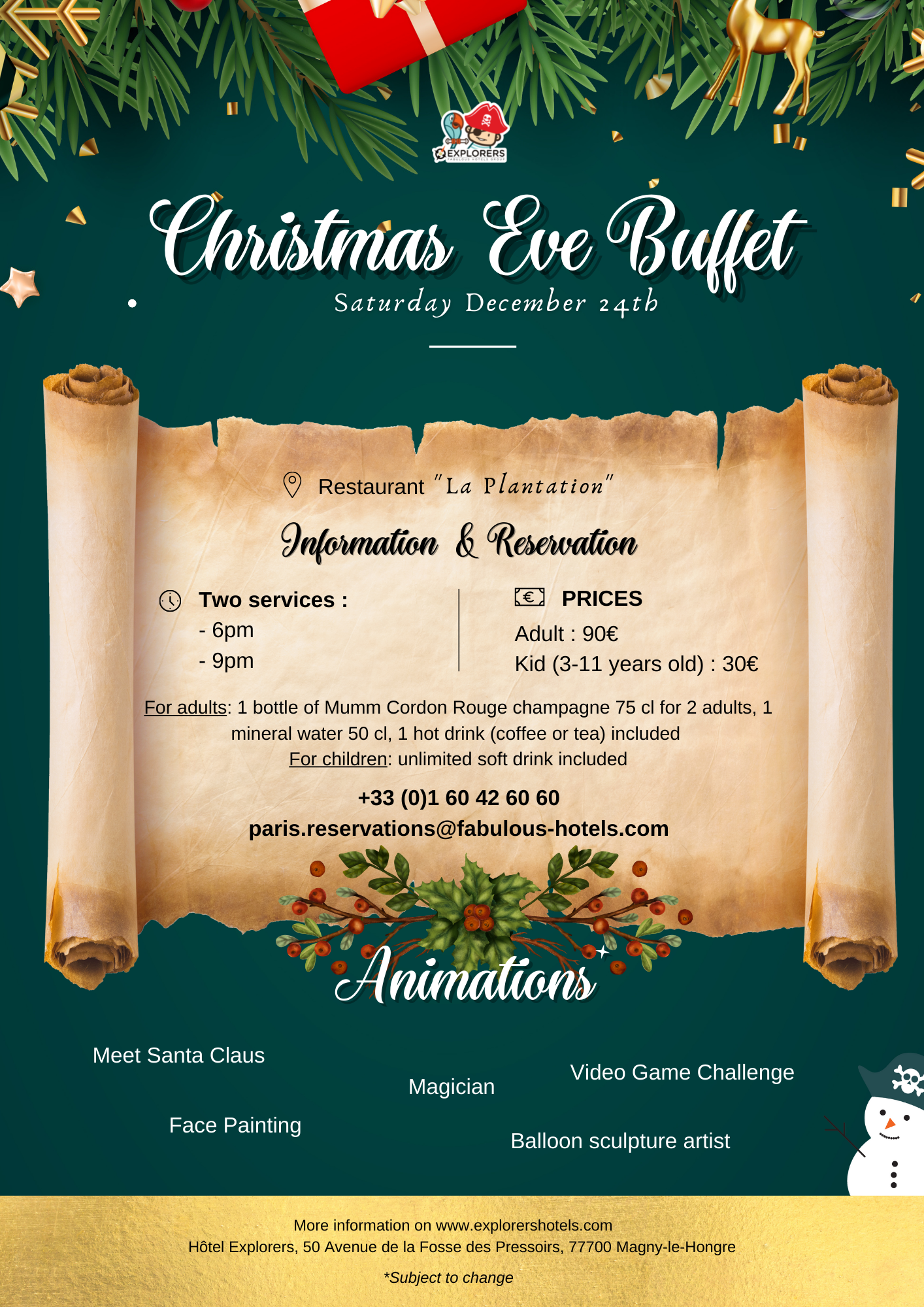 Reservations
To enjoy this delicious meal with your family, don't forget to reserve your Christmas dinner at La Plantation's buffet for the evening of December 24! All you have to do is to contact our reservations department at +33 1.60.42.60.60 or by e-mail at paris.reservations@fabulous-hotels.com.
Our all-you-can-eat appetizers, main courses and desserts are included at a price of 90 euros per adult and 30 euros per child (3 – 11 years)*.
The Christmas buffet will be served in two services with reservations, at 6 p.m and 9 p.m.
*For adults: 1 bottle of Mumm Cordon Rouge champagne 75 cl for 2 adults, 1 mineral water 50 cl, 1 hot drink (coffee or tea) included
For children: unlimited soft drink included
We look forward to celebrating this amazing evening together!