The end of the year is nigh … Let's move on to the merrymaking and to the magic of Christmas 2018!  If you spend Christmas at Disneyland® Paris, and for this magical occasion you have booked a stay at the Explorers Hotel, here is the entertainment program for December 24th.
Christmas at Disneyland®  Paris: The Explorers Hotel will put on great spread!
The all-you-can-eat buffet restaurant will put on great spread for Christmas at Disneyland® Paris. Dishes especially designed for the occasion will be offered and among them, you will find delicious Christmas classics such as oysters: smoked salmon, foie gras, an assortment of tempting breads or even a variety of Terrines with slices of Cured Ham.
Regarding main courses, our Chef and her team will offer you tasty dishes such as a Puff Pastry filled with chicken, a Christmas ham braised with honey and orange, a Christmas turkey or Lemon Sole with Seafood Velouté etc.
Then, for dessert we suggest you finish this great meal of Christmas at Disneyland® with a Choice of Regional Cheeses, fresh fruit, a Black Forest Gateau, an Assortment of Sweet Verrines , Profiterole Surprise or a Farandole of Christmas Logs.
Balanced dishes cooked to please our little sailors will also be in this Christmas Menu: Crispy Chicken Filets, Green Beans with toasted Almonds, delicious Lasagna with bolognese or Creamed mashed Potatoes. To give your taste buds a treat!
When it comes to drinks, you will have the pleasure of enjoying this family meal accompanied by a Champagne Brut Premier Cru AOC "Enfant de la Montagne" (a bottle – 75cl – for two people). Of course, still and sparkling mineral water or soft drinks will be available.
Many other products will be offered on the Christmas menu, discover them below: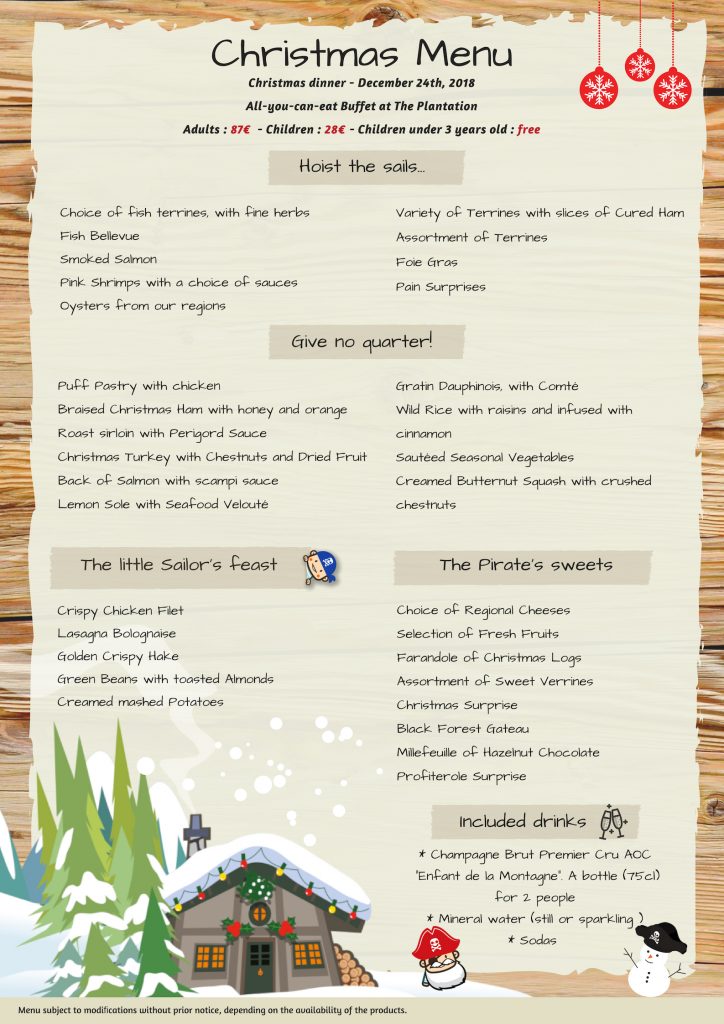 To enjoy this delicious meal with your family, do not forget to book your Christmas dinner at La Plantation buffet for the evening of December 24th! For this, nothing could be more simple, contact our reservations department at  +33.1.60.42.60.60 or at +33.1.60.42.60.61 or by e-mail at paris.reservations@explorershotels.com.
Starters, main courses and desserts will be included for the price of 87 euros per adult and 23 euros per child. This Christmas buffet will take place in two times: a first one at 6pm and another one 9pm.
For your information, during the evening of December 24th, our restaurant the Captain's Library will open from 6pm to 10pm and will offer his usual winter menu. The pizzeria Marco's Pizza will be closed this evening of Christmas Eve.
A magic entertainment program for Christmas at Disneyland®  Paris
Once again, the Explorers Hotel will allow you to live a magical Christmas at Disneyland®  Paris.
Enjoy the remarkable presence of Santa Claus! He will make the most of his annual Christmas tour to greet our little adventurers from 5pm to 11pm. Santa will be waiting for you at the buffet restaurant La Plantation. So, you can chat to him even during your Christmas meal! A "Ouistiti" machine will also be installed at the La Plantation restaurant from 5:45pm. Let's enjoy this new activity to immortalise this Christmas party at Disneyland®  Paris. 1, 2, 3 … Smile, it's time to open your presents!
On the occasion of Christmas at Disneyland®  Paris, a makeup artist will also be present on December 24th to design beautiful paintings on the faces of your children. This activity will take place in the atoll of the hotel between 4pm and 11pm.
Then, a DJ will also be here in the atoll and will get the Christmas party going to the beat of Christmas music.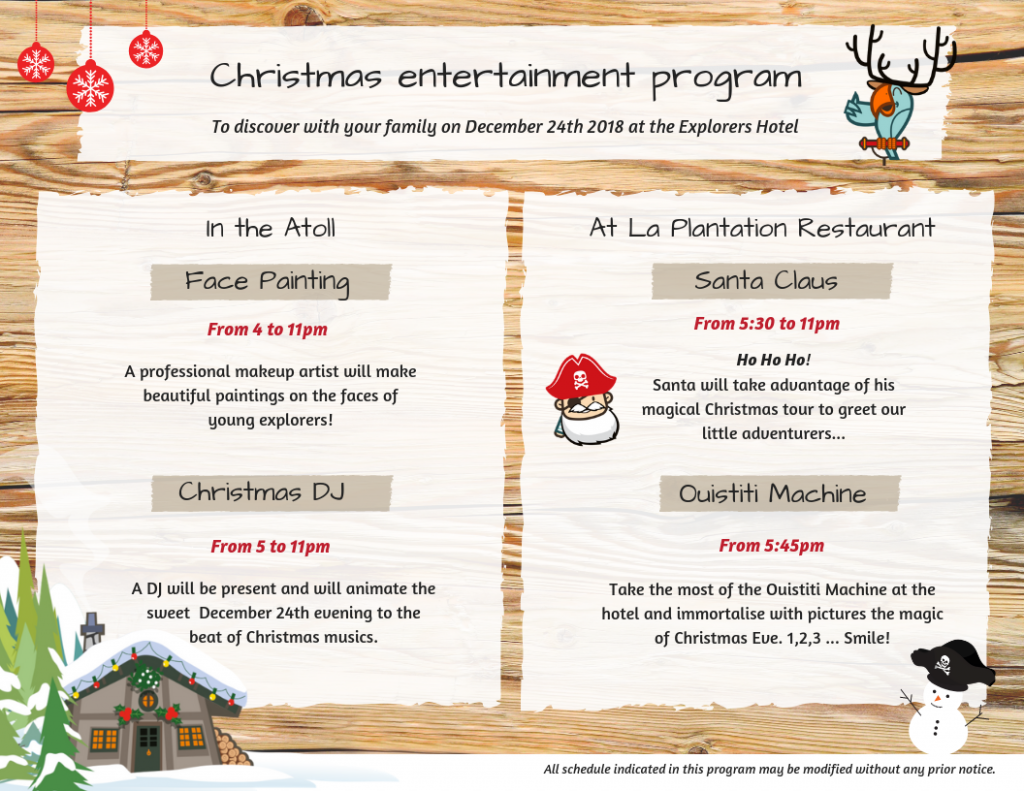 Christmas at The Explorers hotel
During the season of Christmas at Disneyland®  Paris, our crew will obviously decorate our ship in early December… The magic of Christmas will be present throughout the month of December, waiting for the most magical night of the year! We will share pictures of our decorations on social networks. So do not hesitate to show us your best photo shots of autumn and winter by using the #Explorers Hotel.
Pirates, there is still time to book your holidays and Christmas dinner at the Explorers Hotel. For this, contact our booking department at+33.1.60.42.60.60 or +33.1.60.42.60.61 or by e-mail at paris.reservations@explorershotels.com.