This summer, the sun and the heat are here! Enjoy this nice weather by offering yourself a wonderful family trip at Disneyland® Paris. Dive into an amazing adventure in the kids' paradise: the Explorers Hotel! This year, a new gourmet kiosk, our water playground and the inflatable structure will be your best allies.
The adventure begins! Let's have a delicious breakfast… 
After an amazing night in a family room on the theme of pirates and explorers, join the Plantation buffet-restaurant and savour a delicious breakfast. The continental breakfast, included in every room's reservations, offers a wide variety of fresh and quality products: pains au chocolat, croissants, briochettes, several kinds of bread, hot drinks and fresh juices, yogurts, cheese, tasty fruits, cooked meat etc. will delight your taste buds. For our explorers who like english breakfast, it is possible to order an English breakfast with eggs, bacon, tomatoes beans and potatoes rösti. Everything you need to recharge the batteries for a day at Disneyland® Paris.
Then, take advantage of our free shuttle service to get to the parks. These shuttles stop every day at the Explorers Hotel in order to facilitate our customers' access to Disneyland® Paris. Shuttles run approximately every 10 to 15 minutes during peak hours (at the opening and closing time of the parks) and every 30 to 40 minutes during the day. Please note that it is also possible to benefit from Disneyland® Paris' car park for free thanks to your reservation at the Explorers hotel.
Immediate boarding for summer novelties!
 After a magical day in the parks, visit the Jolly Roger, our new gourmet kiosk located in the garden of the Explorers Hotel. The Jolly Roger will allow you to enjoy a refreshing break during your family trip at Disneyland® Paris. A wide choice of cold drinks (still and sparkling water, soda, fruit juice, beer…), hot drinks (coffee, hot chocolate, tea …) and snacks (ice cream, chips …) are offered. The hardest part will be making a choice! During your family trip at Disneyland® Paris, everyone will find what they need.
The Jolly Roger is located next to the pirate island, our great inflatable structure. This summer activity will make your children live an extraordinary experience, every day from 11 am to 5 pm (if the weather enables us to open it). Tickets are on sale at the water playground reception desk (5 euros for the whole day). For information, if you buy 2 tickets, we offer you the third one.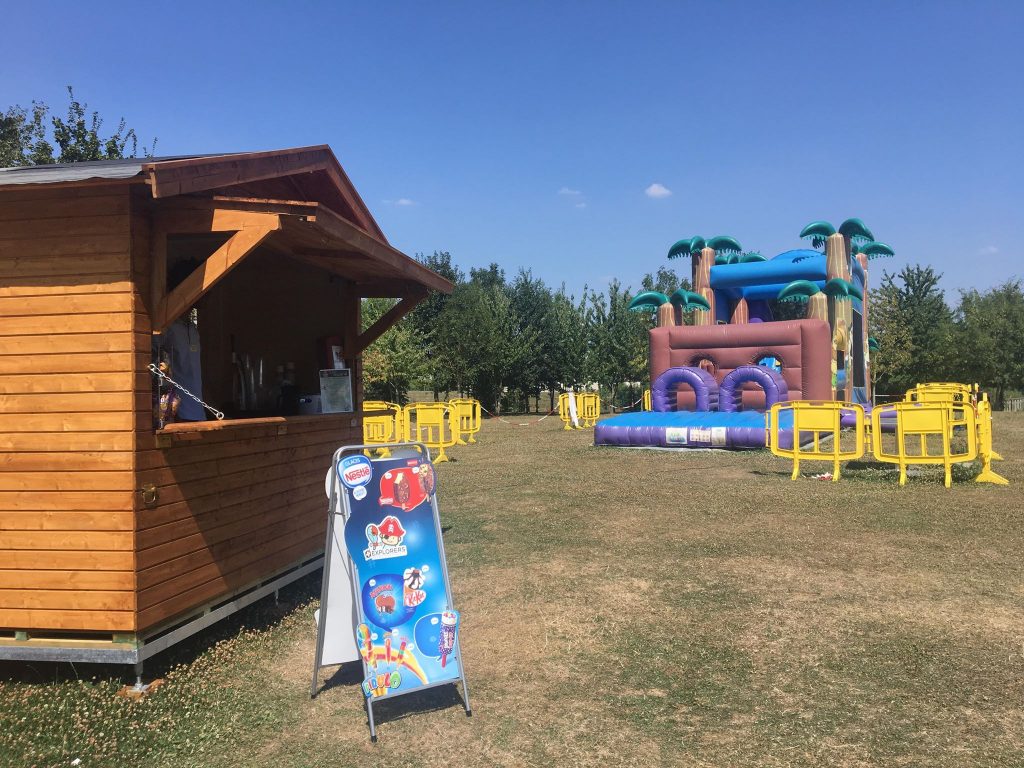 Let your imagination speak at the Explorers Hotel
Then, beat the heat by going for a dip in the water playground of the Explorers Hotel. Open daily from 8 am to 11 pm (last admission at 10:30 pm), the water park is one of our explorers' favourite activities. Equipped with a large pirate boat inside the pool (open every day from 8:00 am to 11:00 am and from 5:00 pm to 10:30 pm) and several slides, your sailors will let their imagination speak and live unforgettable conquests. In order to help you getting ready for your family holidays at Disneyland® Paris, here are some reminders about the water playground:
-The water playground is closed once a year for maintenance. The upcoming closure dates are from the 21st until the 25th  January 2019.
-For safety and hygiene reasons, Lycra swimwear is compulsory for all men and young explorers. No baggy swim shorts allowed.
-Do not use the towels from your rooms at the water playground. Remember to bring your own pool towels. If you prefer to travel light, towels can be hired directly from the water playground reception (2€/towel for the length of the stay).
-Children under the age of 12 must be accompanied by an adult.
-The water playground is reserved for the sole use of our hotel's clients.
In this time of intense heat, don't wait any longer and book your family holidays at Disneyland® Paris by contacting our reservations department at +33.1.60.42.60.60 or on our website. See you soon!