---
«Want to live a Halloween Moment at Disneyland® Paris?  My ship dares you to discover the thrills of this magic moment at the crossroads of the seasons. Because yes, Halloween is a unique moment in the year, the moment when the world of monsters and spirits meets the world of men and opens the door to pranks and bad jokes. Shiver me Timbers! Rest assured, everyone I accept on board are not mischievous and jokers … well! This year, my crew and I are pleased to introduce you a program specially designed for the occasion. Believe me, you will not be disappointed with the trip!" Archibald, Captain of the Explorers.
---
The Explorers is adorned with Halloween colors!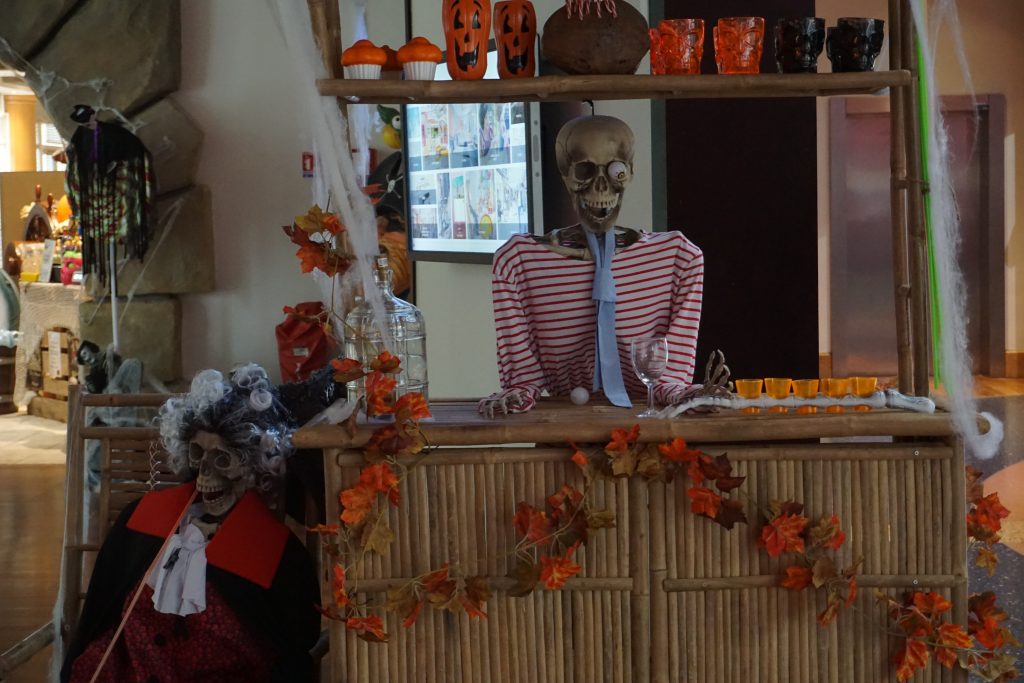 For the occasion, the Explorers offers a special Halloween decor, where fantastic characters mingle with pumpkins, cobwebs and other decorations! Discover a magical world at the crossroads between the world of the dead and the living. Stroll around the hotel and soak up the atmosphere of Halloween!
The Plantation: Enjoy a devilishly tasty meal
The Halloween Party invites itself onto your plates and invades our buffet restaurant Plantation for your pleasure between 6pm and 10.30pm.  You will be welcomed in a party atmosphere and rub shoulders with pumpkins and other specialties during this memorable evening. Our Roasted Chicken marinated in spices, our filet mignon of pork and its chocolate juice, our Sauté of beef with red peppers or our Pavé of salmon and its sauce virgin. You'll also enjoy Halloween essentials, including pumpkin soup, as well as other delicious dishes such as our three colour torsades in tomato sauce, our black sesame carrots or our cuttlefish risotto, but there's more!
---
Captain's Library: A scary menu for whole family!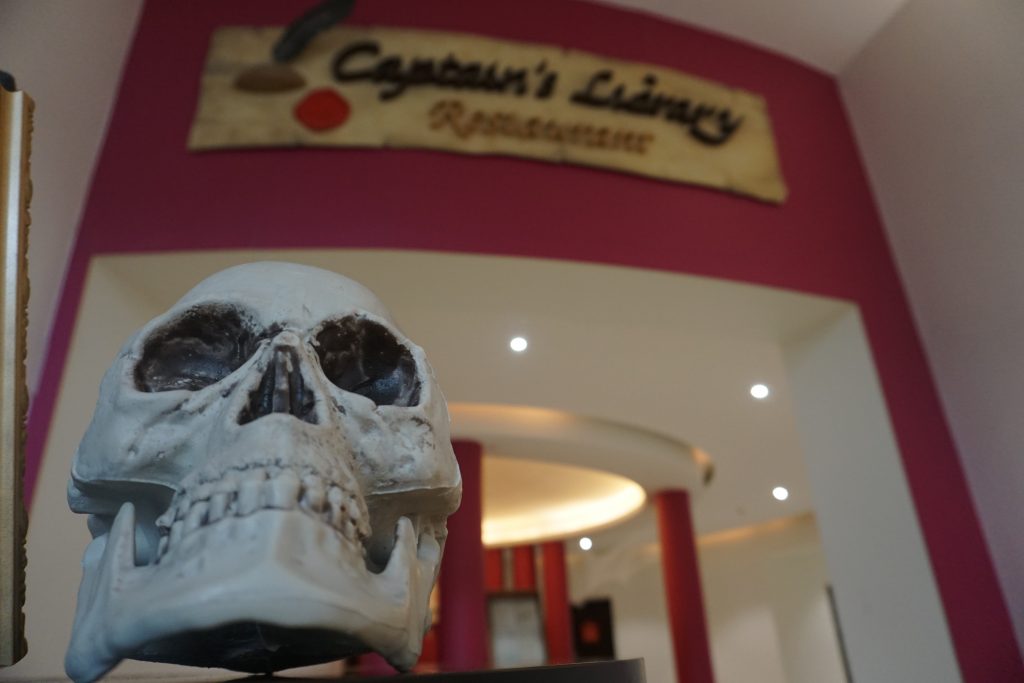 Because Halloween is a special evening, our chef offers you a menu dedicated to the occasion in our à la carte restaurant, Captain's Library. Be warned! The meal will start with the Kraken's Lair and his assortment of entrees with pumpkin cream, parmesan and garlic croutons. Only the brave explorers will be able to pass this test and continue to begin the descent to the Abyss, consisting of a Black Angus Halloween burger and bacon, accompanied by fries, a delicious cheddar sauce and Devils salad that will leave you speechless! The last survivors of this dangerous escapade will surely fail on the Island of the Lost, where they will taste the Sorrows of the Shipwrecked, eclair and macaroon garnished with a creamed peanuts and its red fruits coulis, enough to end this adventure!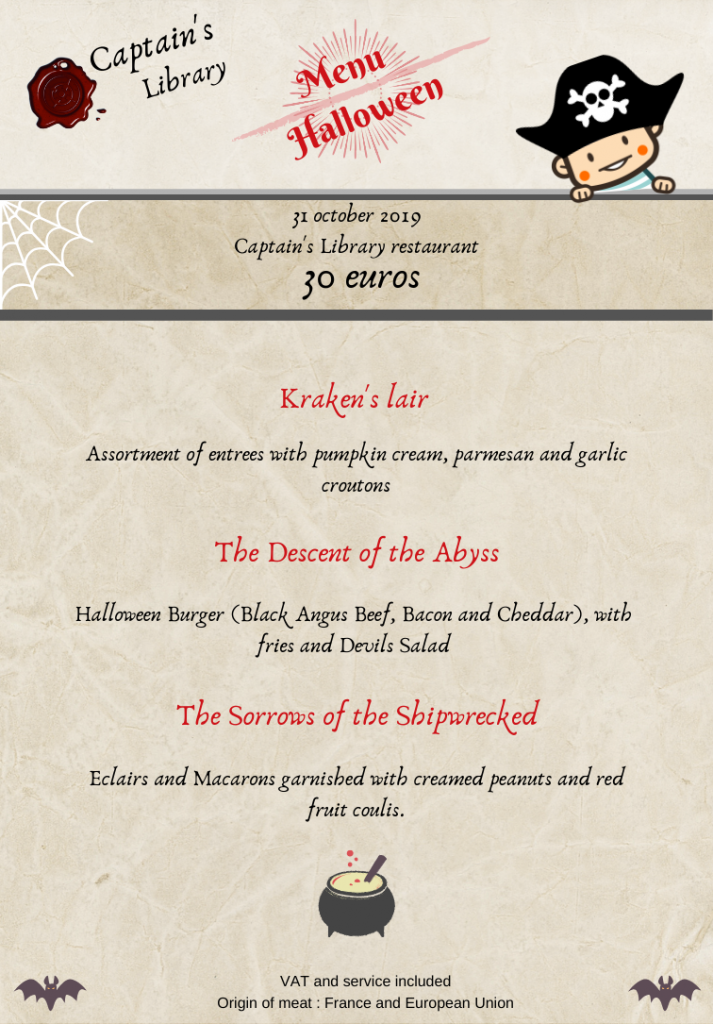 If you want to join us for this very special but terribly tasty dinner, come directly to the restaurant in good form and with a big appetite! 
The Gourmet Café will open its doors from 4:00 p.m. until 11:00 p.m. for the pleasure of all pirates, young and old!
For more information, do not hesitate to contact us at +33 1 60 42 60 00.
The Explorers will welcome on board makeup artists, for the happiness of the young sailors and pirates. These animations will be located between the Atoll and our buffet restaurant La Plantation. And do not forget to enjoy our famous Halloween cocktail at the Trader's Bar!
---
Photos or a spell! The Explorer's Competition for Halloween.
For Halloween, we invite you to discover our special photo contest!  Equipped with your camera, you will need to explore the hotel and take the best possible shots. Once your best photo has been selected, simply send to: marketing@explorershotels.com
We will proceed to the draw and you will be contacted as soon as the jury has made its choice. We have prepared awards worthy of the greatest explorers!
Captain Archibald is waiting for you on board to celebrate this special event!
Pirately yours,