Are you celebrating a special occasion with your partner? Your first meeting anniversary or your wedding anniversary? Maybe you are planning to propose during your stay at Disneyland Paris or you just want to be romantic and make your partner happy? The Explorers Hotel has created romantic packages for our most romantic guests.

Surprises to make your stay at Disneyland Paris and at the Explorers Hotel more unforgettable

Make your loved one's eyes sparkle as soon as you enter your room. Our staff will decorate your room with rose petals and balloons. A personalized message will also be waiting for you in the room.
Two sets of bathrobes and slippers are provided for you to pamper yourselves and create a cocooning atmosphere. Maybe you will feel like staying longer in your room. And that's fine because we offer you a late check-out possibility. Whereas we ask our guests to leave their room before 11am, you will have the possibility to keep your room till 1pm! You can take advantage of this extra time to enjoy our aquapark for example. A lovely happy-ending to your stay at Disneyland Paris and at the Explorers Hotel. Moreover, we offer you the towel rental at the entrance of the aquapark.
If you want to make your stay at Disneyland Paris and at the Explorers Hotel even more romantic and unforgettable, you can also book other options, such as Champagne or a bouquet of flowers. If you want to offer your loved one a present, choose the romance box with its engraved Champagne flutes and macaroons to enjoy together.
Discover all details below: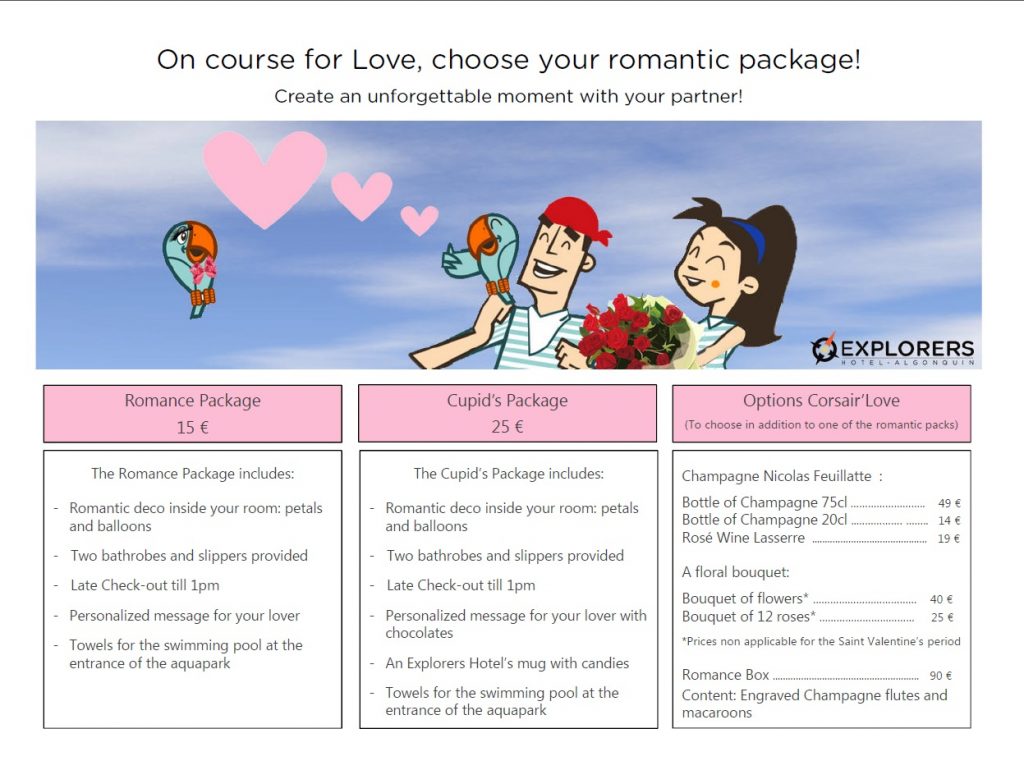 To book, nothing is more simple: You just need to contact our Guest Services or to send them directly our booking form that you will have downloaded: frontoffice@explorershotels.com

And why not a suite for a more romantic stay!

Do you know our suite for Princesses? Or our suite for Knights? Discover them through the pictures below and read all information on the suites' description page on our website.
You can also book one of our original suites : The Sweet suite for gourmets and candy lovers, the Planet Hollywood suite for cinema fans and the Jungle Suite for budding Tarzans. More information on the page concerning our original suites. No doubt that your stay at Disneyland Paris and at the Explorers Hotel will be a magical moment with all these surprises.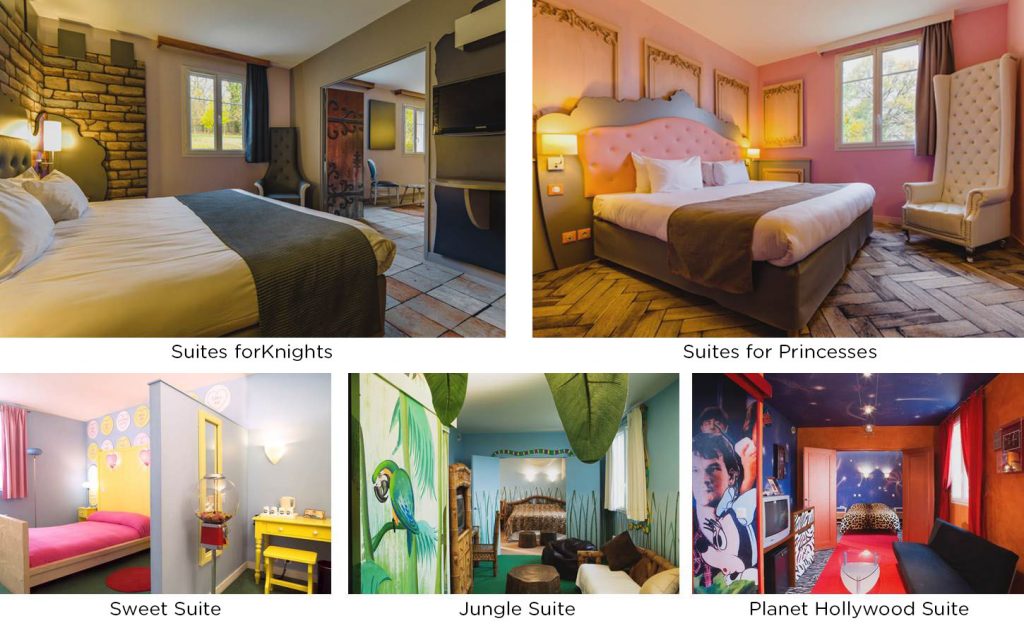 And don't forget our VI Kids offers if you want to reserve a little surprise for your children!

By booking our Sailor's or Explorer's pack, you are sure to make your children happy. If you want to reserve them a surprise or to celebrate a birthday, these offers are for you! You can also book a birthday cake personalized with your child's first name!
You are interested? Don't wait any longer and discover our VI Kids offers right now!