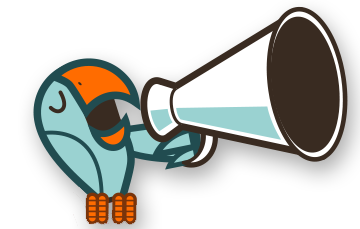 Tonight, between 6:00 p.m and 10:30 pm, enjoy a family moment to accompany Archibald and his pirate crew on their stopover in the country where children are kings! A country where the rules aren't set (almost), where there's plenty of food, sometimes sweet, sometimes salty, but always delicious, and where children play, jump, laugh, dance and run as they please!
Stopover in the land of the moussaillons
Archibald needs to recruit new crew members to continue the Explorers adventure! That's why he and his crew are sailing straight to this wonderful country! This country is inhabited only by young pirates, teenagers at the most, who have formed a real family on a deserted island far away in the heart of unknown seas! They would spend their time playing, eating lots of treats and laughing among themselves!
For all the pirates who decide to follow the Captain in this gourmet destination, go to the all-you-can-eat buffet restaurant, La Plantation, from 6:00 pm on Tuesday 25th February 2020 and until 10.30 pm! You'll find a real feast of moussaillons, among pizzas, hot dogs, spaghetti and lots of other sweet dishes! As a bonus, you'll also be able to watch a pancake and muffin stand so that your young pirates can discover the flavours of an authentic delicacy prepared before their very eyes! In order to have a wonderful time with your family, you can also take advantage of fun and entertaining activities and animations. Between Passe-trappe, Ringo Bingo, Dutch billiards, reflex games and many others, find games of yesteryear that will make your family happy!
Take part in this crazy pirate adventure from 27.50 € per adult and 13.50 € per child (rates on site or included in your half-board offer).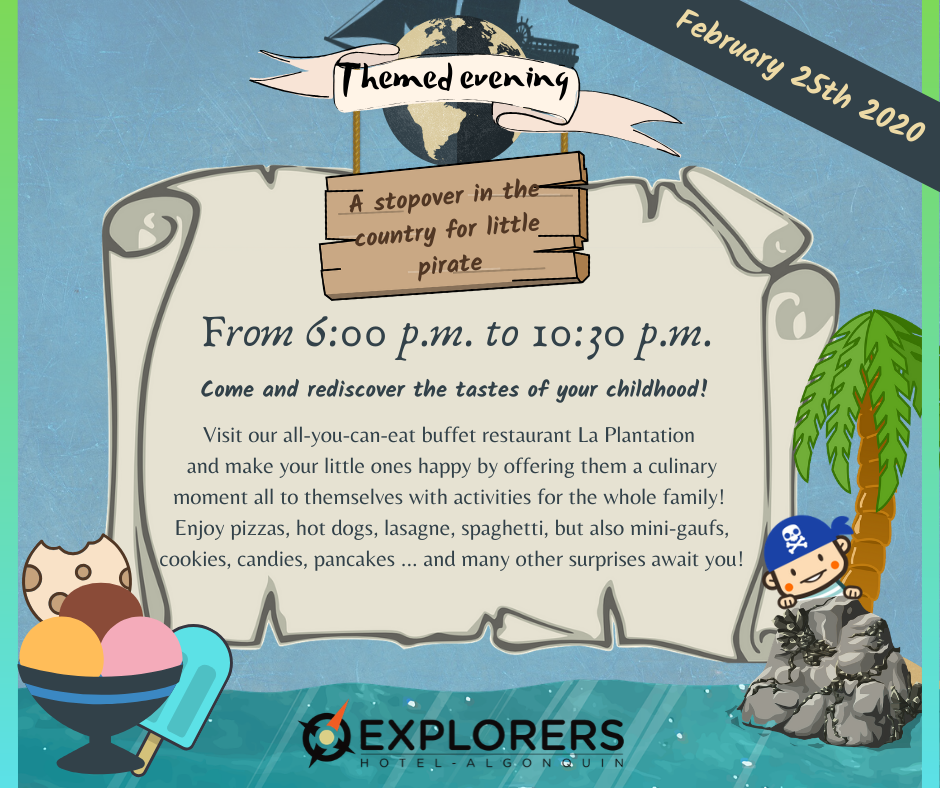 Future stopovers: take part in the adventure!
For all those who wouldn't have the chance to take part in this stopover, don't worry! The Explorers is a pirate ship that has been exploring the world's waters since its Captain, Archibald, took over the helm! Between India, Spain, the Orient and the Americas, you can be sure that the Explorers will be making other calls throughout the year!
If the Explorers sails so far, it is thanks to its crew, certainly, but also thanks to its passengers, who carry it ever further! And I hear that the Captain needs you! On the Explorers' social networks or directly by email, Archibald would like to know your wishes and desires for a stopover! Where shall we travel next time? Which countries, continents, parts of the world are you interested in? The year is just beginning and ideas are already flowing! What a passion for travel!
With your little ones, your sailors or your big freebooters, come and discuss ideas for culinary trips that we could set up at the Explorers! Our masterchief and his cooks are ready to listen to all your suggestions to help you discover the world's destinations from a culinary point of view and for the pleasure of your taste buds! And stay tuned, you'll have news very soon on our next destinations! See you on Facebook or Instagram to continue the journey!
So what are you waiting for to book your adventure at the Explorers?
Here's to the boarding party!