On Saturday 1 July, come and enjoy a campfire night at the Explorers Hotel!
What better way to start the summer than sitting by the fire with us, toasting marshmallows and listening to the incredible tales and legends of our pirates of the seven seas?
Our whole crew is waiting for you from 7.30pm at the Explorers Hotel, near Disneyland Paris, for an unforgettable family experience! Find out now what the Explorers has in store for you for this campfire night.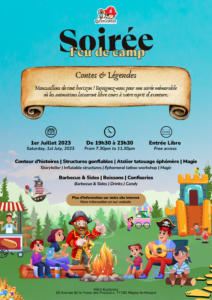 Programme:
The theme of the evening is pirate tales and legends, so expect to leave with your head full of dreams and the desire to set off on an adventure! Three stories will be told at around 7pm, 8.30pm and 10pm.
There will also be two magic shows at 7.45pm and 9.15pm, guaranteed to impress the whole family!
Between the various activities, you'll have time to enjoy the ephemeral tattoo workshop and the two bouncy castles where our young sailors can re-enact the legends they have just heard.
A pirate tavern with 20 wooden games and a balloon sculpture workshop will also be there for them to enjoy.
Sir Archibald also has a little surprise in store for the young explorers who come to spend the evening with him!
Children will be under the responsibility of their parents throughout the event.
And if you are feeling peckish, we've got you covered. If you are more of a savoury type, there will be barbecue, chips and salads waiting for you. If you're more of a sweet tooth or want to finish the meal with a dessert, our sweets are there for you! Sweets, popcorn, pancakes, cotton candy, ice cream and, of course, marshmallows, the must-have at a campfire party!
Last but not least, your little one is having a great time but is missing something? A stand with products from our shop will allow him to dress up as one of his favourite pirates and live out his own story.
Practical information:
Join us on Saturday 1 July 2023 from 7.30pm at the Explorers Hotel for our campfire night.
Free event & no booking required
Address : Hôtel Explorers , 50 Avenue de la Fosse des Pressoirs, 77700 Magny-le-Hongre