Experience a royal stay in our air-conditioned Knight & Princess Suites!
Fellow explorers, let yourself be transported back to medieval times for the duration of your stay, with our Princess and Knight themed suites at the Explorers Hotel, near Disneyland Paris.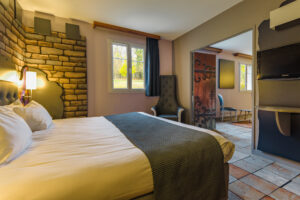 The Knight Suite takes you back in time, and its decor of stone and coats of arms will make your children dream of epic battles and chivalrous adventures. In contrast, the Princess Suite welcomes you with its sumptuous, elegant pink and pastel tones, reminiscent of the Royal Chambers often found in castles.
These highly sought-after suites are air-conditioned for the utmost comfort, which is particularly appreciated on those hot summer days. Three spacious areas await you as you step through the door. The first is a large master bedroom with a double bed. The second is a bedroom with bunk beds that will be perfect for younger guests. Lastly, at the heart of this suite which can accommodate up to 6 people is the living room, waiting for you to enjoy some wonderful moments with your family and create unforgettable memories. With its sofa bed, the living room comfortably fits an extra two people. All of this in a medieval atmosphere for heroes in search of adventure, or a majestic setting for princesses who want to make their favourite fairytales come true.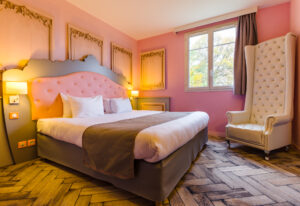 The Knight and  Princess suites at the Explorers Hotel are perfect if you want to keep dreaming after spending the day in the park. The Explorers also offers a free shuttle service between Disneyland Paris and the hotel, so that you don't have to worry about a thing!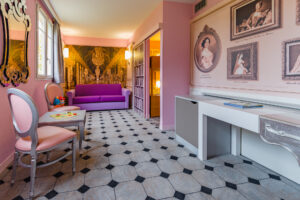 Looking for more themed suites? We have exactly what you are looking for! Check out our three original suites right here: Planet Hollywood, the Jungle Suite and the Sweet Suite, for a truly colourful stay!