Autumn has arrived with its procession of golden leaves and mysterious evenings, and at the Explorers Hotel, we're delighted to invite you to our special Halloween event on October 31, 2023!
For the occasion, the hotel is offering a special Halloween decor. Get ready for a terrifying, unforgettable celebration where ghosts and bats will accompany you …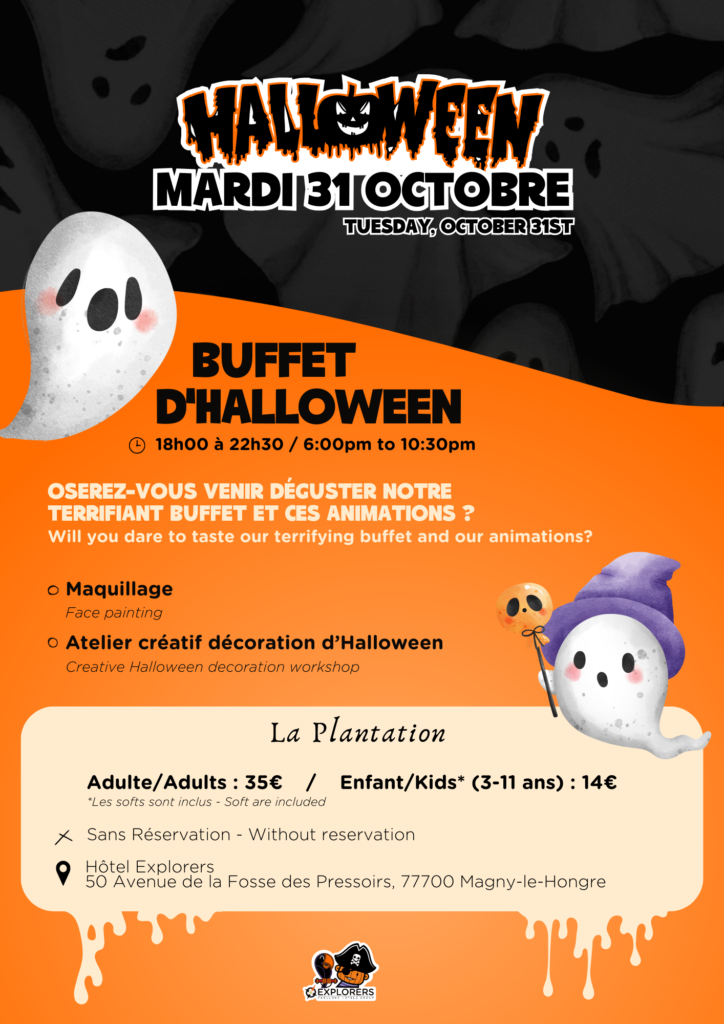 La Plantation :
Enjoy a devilishly tasty meal
Embark on a spellbinding culinary experience that will awaken your taste buds to the flavors of the season. On the evening of October 31, discover our special Halloween buffet at our buffet restaurant "La Plantation" from 6:00 pm to 10:30 pm.
On the menu? Deliciously spooky dishes and sweet treats to get you into the festive spirit of this enchanting time of year. If you'd like to join us for this very special and frightfully tasty dinner, simply come along in disguise … or not, and without a reservation.
Special Halloween entertainment
The night of October 31 will be the highlight of our celebration. Dress up in your most mysterious costumes and enjoy an evening of spellbinding entertainment, specially designed to celebrate this strange night. An experience you won't soon forget.
PRACTICAL INFORMATION
Rendezvous on Monday, October 31 – from 6:00 pm to 10:30 pm.
Our crew will be delighted to welcome you to the atoll (Catering area at the bottom of the stairs).
Event without reservation
Price on the evening of October 31st: Adults: 35€ / Children (3-11 years): 14€ / Babies (0-3 years): FREE
Location: Explorers Hotel, 50 Avenue de la Fosse des Pressoirs, 77700 Magny-le-Hongre
How to get to the restaurant: Dans l'atoll (dining area at the bottom of the stairs)
We thank you for your confidence and look forward to welcoming you aboard a fearsome and terrible adventure.