The Explorers Hotel has decided to renew its restaurants' offers. Let's discover the latest news!

A new menu for the Marco's Pizzeria at the Explorers Hotel in Disneyland Paris

Good news, the Explorers Hotel at Disneyland Paris has revamped its Marco's Pizza's menu. Hoist the colours and let's go and explore these new pizzas. You can twin your pizza with a fresh salad, fries or crisps !

First stop… The Middle East ! The Explorers Hotel's Chef now offers a Halal Oriental pizza made up of a tomato base with merguez sausage, kebab, peppers and onions.
Then, heading North with a Norwegian pizza. With a crème fraîche base, you will enjoy the excellent mix of salmon and potatoes accompanied by onions and dill.
The adventure continues with the Meat lovers pizza. Created from a tomato base, you will find merguez sausage, kebab, pepperoni and onions.

Rediscover the famous pizzas from the Explorers Hotel close to Disneyland Paris

Don't worry, the delicious pizzas you already know are still here! You will be able to enjoy your favourite Margarita and Regina, the Three cheese for the cheese lovers, the vegetarian with its tasty vegetables, the Tuna, the pizza From the Farm and the Rustic that our explorers love and last but not least the Explorers pizza with its delicious sheep's cheese.
Finally, for the foodies, it's still possible to savour a VIP pizza based on a Margarita with 3 toppings of your choice (2€ per additional ingredient to the 3 already included in the price).

Discover or rediscover our pizzas, everyday from 5 to 11 pm, with or without menu. We offer four menus in order to delight all the explorers after a magical day at Disneyland Paris. From the Menu Explorer (Pizza + Drink) to the Menu Pirate (Pizza + Dessert + Drink) by way of the Menu Marco (Pizza + Fries / Salad / Crisps) and the Menu Super Marco (Pizza + Fries / Salad / Crisps + Dessert + Drink) you will find what you're looking for at the Explorers Hotel.

Discover all pizzas and menus: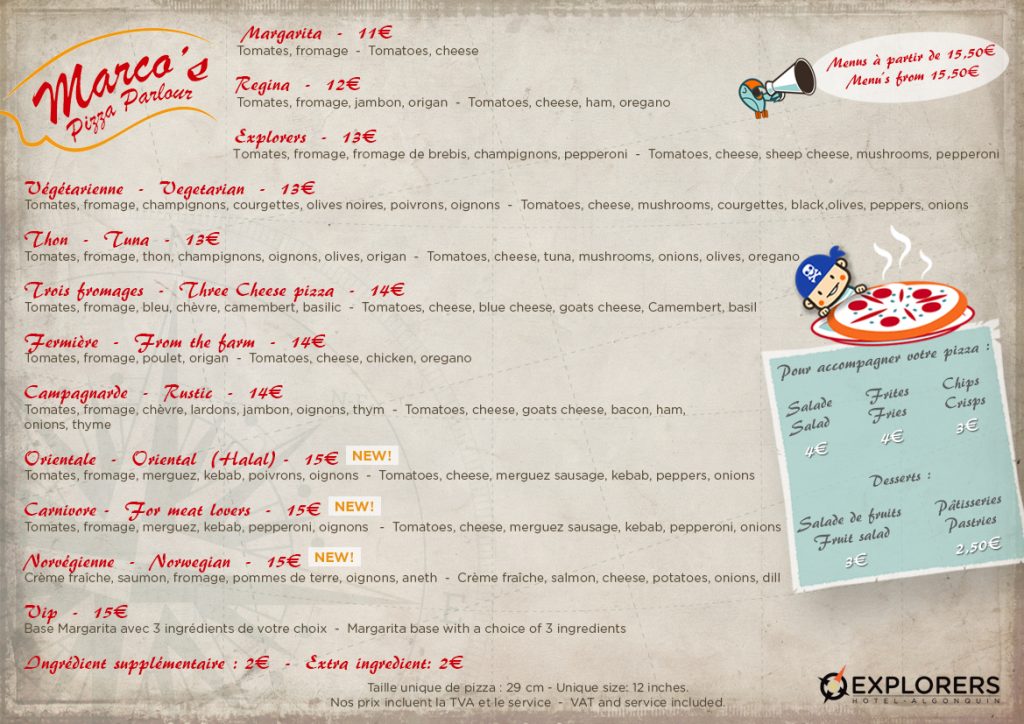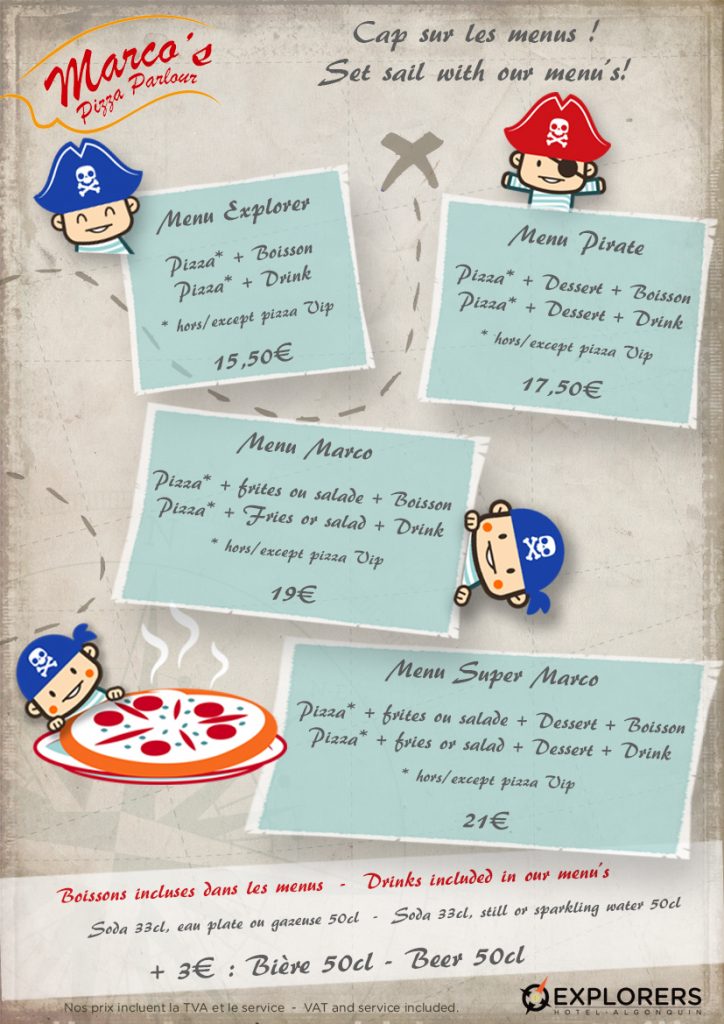 The Captain's Library reopening at the Explorers Hotel

For the enjoyment of our explorers, The Explorers Hotel's traditional restaurant at Disneyland Paris reopened on Saturday 10th…

Welcoming and cosy, this restaurant is located 5 minutes from the Disneyland Paris parks and will take you out of yourself with its unique atmosphere.
The Captain's Library will allow you to enjoy a small moment of calm after a hectic day in the Disneyland Paris parks. We also offer a child menu to make everyone happy. We use elaborate, varied and quality dishes to delight our diners. Discover the menu. We are waiting for you every night, from 6 to 10pm, and without a reservation, at the Captain's Library à la carte restaurant. Our team will be happy to welcome and advise you.