On 19 September, celebrate International Talk Like a Pirate Day!
Ahoy, mateys!
The Explorers Hotel, located just 10 minutes from Disneyland Paris, is much more than just a place to rest; it is a home base for all those who dream of embarking on epic adventures. And what better way to celebrate our passion for piracy and exploration than on International Talk Like a Pirate Day, which is celebrated on 19 September?
When we talk about pirates, we all have an image that comes to mind, whether it be Captain Haddock from The Adventures of Tintin or Captain Jack Sparrow from Pirates of the Caribbean. Each of us has a different reference, but one thing connects them all: their distinctive way of speaking! And why not spend a day talking like your favourite buccaneers? And watch out for the landlubbers who don't take this day seriously, as they may end up walking the plank! The Explorers takes no prisoners. Savvy?
International Talk Like a Pirate Day, which takes place on 19 September, is the perfect time to bring out your inner pirate during your stay aboard the Explorers! Celebrate this day alongside our intrepid Captain, Sir Archibald!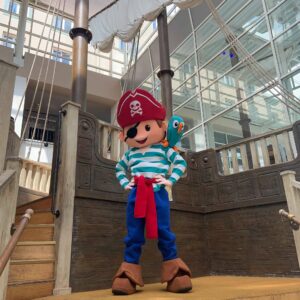 But do you know the origin of this very special day? It all started back in 1995, when two American friends, John Baur and Mark Summers, began joking around and talking like pirates during a round of golf. They found it so much fun that they decided to create an entire day dedicated to pirate-themed language and expressions. The concept has grown over the years thanks to the internet, and International Talk Like a Pirate Day quickly became a worldwide tradition.
So, on 19 September, let's pay tribute to these pirates, who give our young sailors the desire to explore and sail the seven seas in search of treasures. Sir Archibald, our captain, can hardly wait to set off on a new expedition with them and experience some thrilling adventures.
So get ready to hoist the black flag and have fun celebrating International Talk Like a Pirate Day on 19 September with our crew aboard the Explorers. Prepare to board!