Are you looking for a restaurant near Disneyland® Paris? Do not hesitate and try the Captain's Library « à la carte » restaurant at the Explorers Hotel which is located just 5 minutes from the Parks.Our restaurant near Disneyland® Paris benefits from a very cozy and relaxing atmosphere and opens each evening between 6 and 10pm. Its delicious menu varies according to the seasons and allows you to enjoy delicious meals throughout the year. Discover the new autumn-winter menu…
Hoist the sails to a tasty dinner at Captain's Library at the Explorers Hotel
This winter, come and warm up at the traditional « à la carte » restaurant The Captain's Library located in the heart of our boat. Let's start this dinner with one of our delicious starters … This year our Chef and her team offer you many novelties such as a crispy goat cheese with a fig and nut salad and a honey vinaigrette or an onion soup gratiné with cheese garlic bread.
Give no quarter for meat lovers !
Our meat lovers guests will be able to carry on with this dinner by eating a tender Duck Confit with mushroom sauce forestière, an escalope Milanese or a filet steak with Potato gratin and vegetables of the day … A lot of choices in order to satisfy the entire family! You will also be able to order our excellent Mix Grill plate made up with several meats including steak, a lamb chop, a chicken picatta and tasty ribs. And again this year, you will find our burgers.
Weigh the anchor and let's discover the fish course…
Several fish dishes also are in this new winter menu… So why not, start your meal by choosing our Smoked Salmon in sour cream and pink berries with a parmesan tuile.
Salmon or Pan fried cod with petits légumes and sesame sauce are also offered in the main course's menu.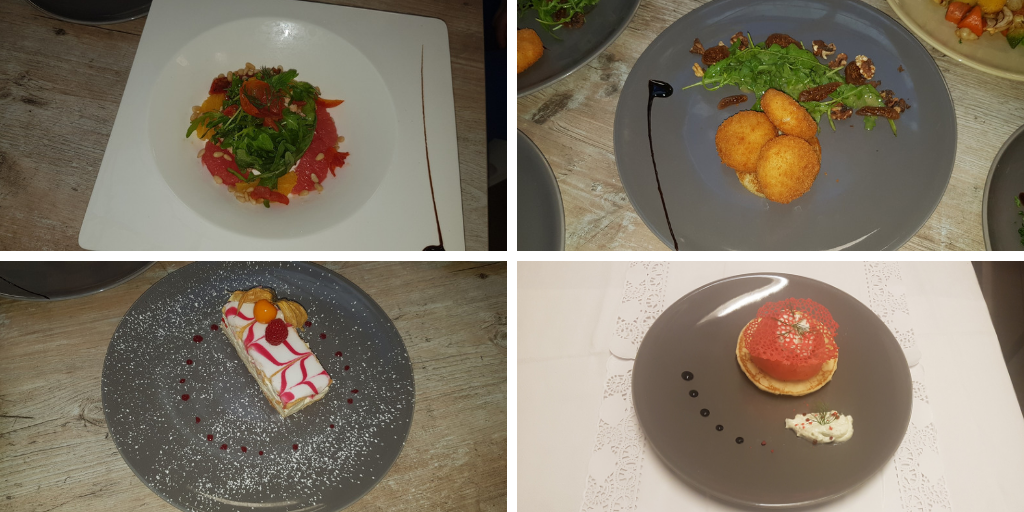 The little Sailor's Feast
The Captain's Library, our restaurant close to Disneyland Paris, adapts to the needs and desires of the entire family in this new winter menu. For the children's menu, dishes have been designed to appeal to our little adventurers. Rediscover our Pirate Burger, the delicious lasagna bolognese and our famous golden chicken nuggets or our crispy sea treasure (fish fingers). Then, sailors can finish their meal on a delicious sweet note with a fruit salad, mini chocolate pancakes or with a refreshing ice cream (strawberry, vanilla, chocolate).
Restaurant near Disneyland® Paris: enjoy our many gluten-free dishes
Our restaurant near Disneyland® Paris adapts to the needs of our customers and offers many gluten-free dishes which will allow all our customers to enjoy… Even following a special diet !
As we explained a few months ago in our article "Special Diets at the Explorers Hotel", where we met Michael Hanssens, the Catering Manager of the hotel, we have a wide choice of products to meet the special diets of our customers.
In this new gluten-free winter menu, you can find our classic Caesar salad or an Alliance of duck foie gras and chorizo ​​with Guérande fleur de sel and onion confit.  As well on this new gluten-free menu, let's discover our delicious hamburgers cooked with gluten-free bread of course! As you can see, the Explorers Hotel adapts to the needs of its customers and wants to offer a great choice for our pirates following special diets. One thing is for sure, you will find what you are looking for on board of the Explorers Hotel.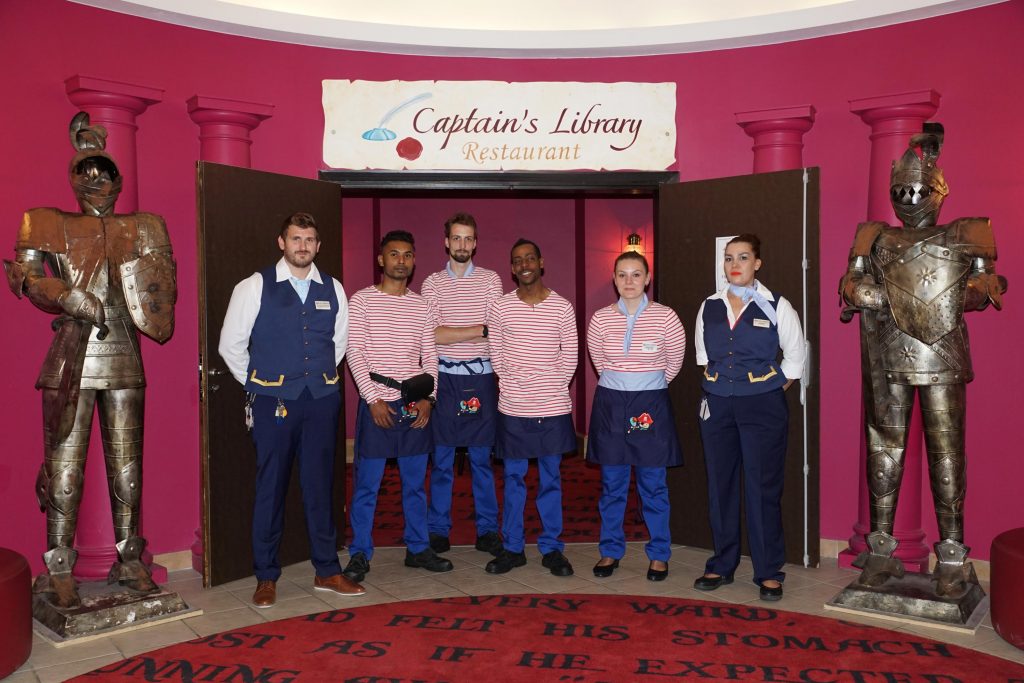 Our teams welcome you every evening in our restaurant near Disneyland® Paris.
Discover the new Menu by clicking here.
And the gluten-free menu … just click here!
Other restaurants are also present at the Explorers Hotel. Indeed, we have an all-you-can-eat buffet at La Plantation restaurant offering many varied and quality meals to meet the expectations and needs of all the pirates families we welcome every day. A lot of starters, meat, fish and even vegetarian dishes are served daily. Well, we also have a pizzeria whose pizzas are cooked to order. Discover the pizzeria menu just here. 
Bon appétit Pirates!