Like every year, we are waiting with a great pleasure for a lot of families come to celebrate Christmas at Disneyland® Paris and at the Explorers Hotel ! A few days ago, we informed you about the program of Christmas Eve and about the Christmas menu served in our restaurant La Plantation. Now, discover our Christmas menu at The Captain's Library, our traditional à-la-carte restaurant.
The Captain's Library, the restaurant with a cosy atmosphere at the Explorers Hotel
First of all, do you know The Captain's Library? This is our traditional à-la-carte restaurant, with table service. This menu is elaborated with fresh and seasonal products and often renewed with a great variety of starters, dishes and desserts for all tastes, as well as a Kid Menu. Away from the agitation inside the hotel, this restaurant offers a warm and intimate atmosphere for a dinner with your family or your lover. In terms of decoration, you are here in the library of Sir Archibald's boat! As a picture's worth a thousand words, let's discover the Captain's Library with pictures: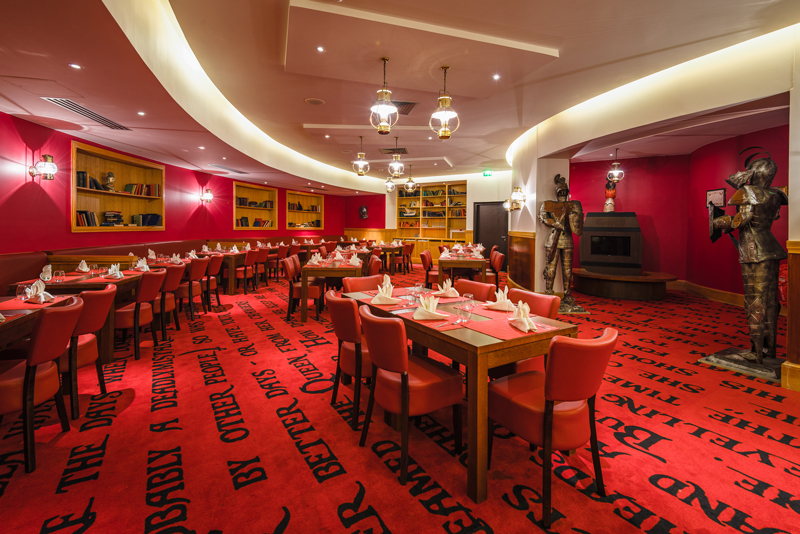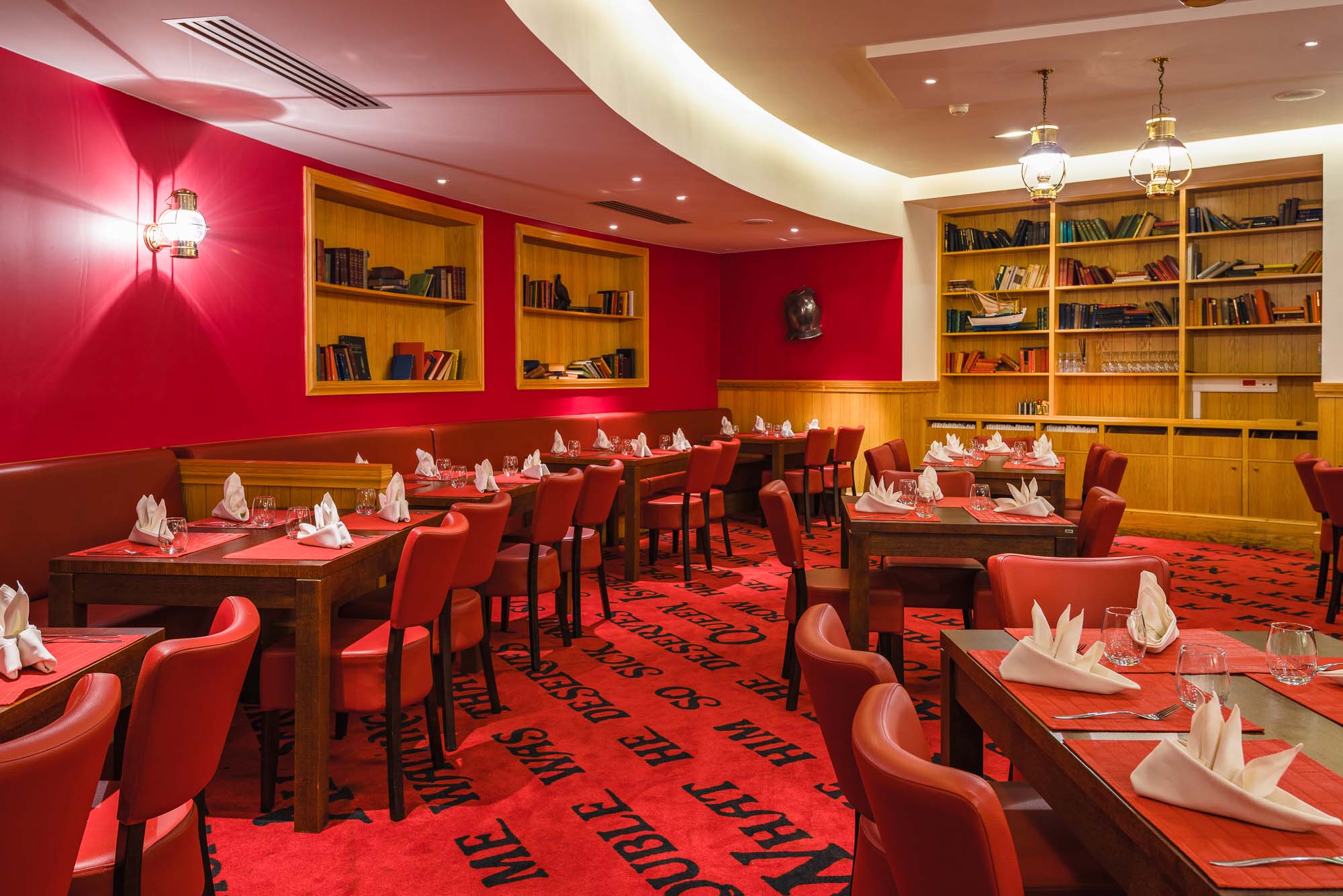 The Captain's Library is open every day of the week from 6pm to 10pm, without booking. But be careful, it is not open all year long, so don't hesitate to ask our Guest Services about its opening dates: +33 (0)1.60.42.60.12.
It will be open during Christmas holidays of course. Now let's talk about Christmas Eve!
Christmas at the Captain's Library
This year, our Chef has elaborated a Christmas Menu for the Captain's Library and you won't be disappointed! You will have to choose between two starters, two main dishes and two desserts… And it will not be easy to choose!;-) Indeed, how to choose for example between the traditional Chestnut log and its chestnut shavings and the chocolate feuillantine cake with its vanilla velouté for dessert? A pre-starter and a hot drink (coffee or tea) are also included in the menu.
Beside this menu option, you will also have the possibilty to choose from a part of the usual menu of the restaurant, and the Kid Menu. You will necessarily find something you like!
You can discover the whole menu below or you can also download it by clicking here.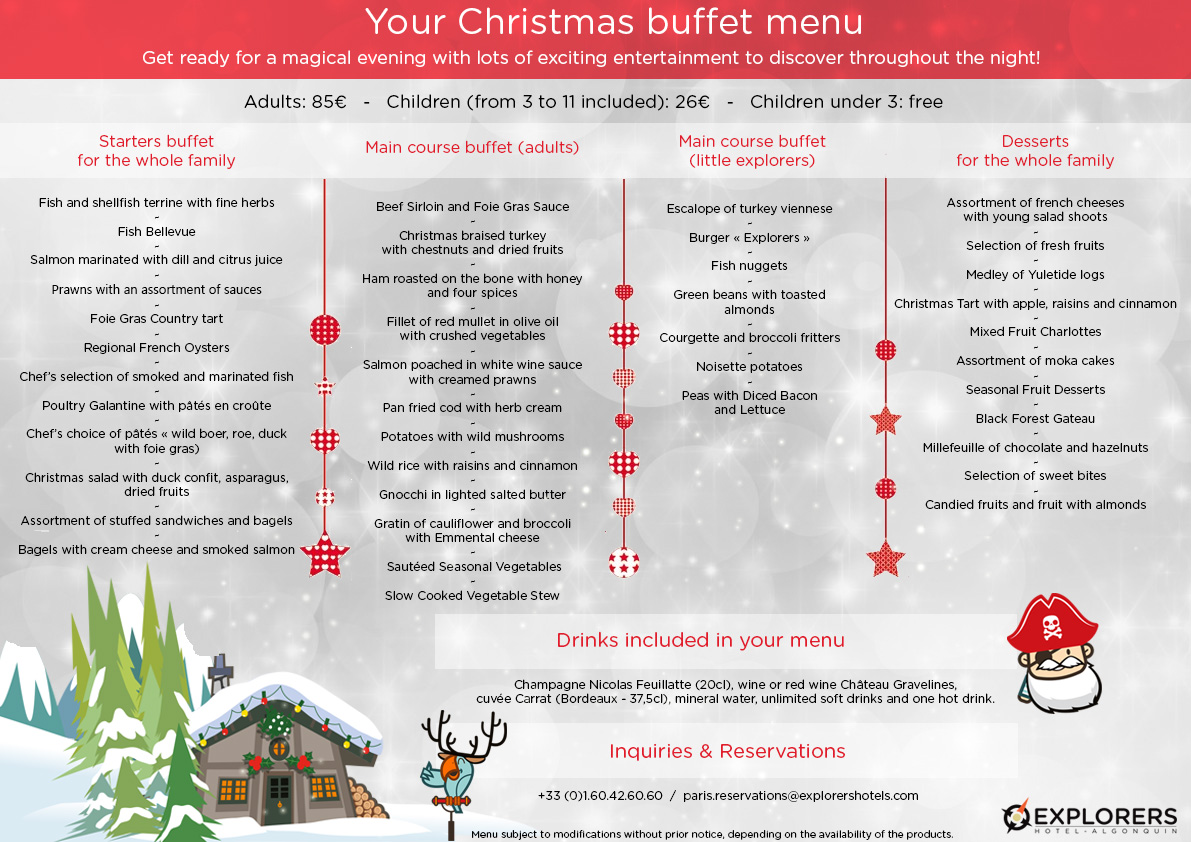 As a reminder, the rest of the program inside the Explorers Hotel
Like every year, there is a special Christmas buffet at La Plantation Restaurant. Oysters, foie gras, salmon, turkey, Yuletide Logs, candied fruits… All the most famous Christmas specialties will be present in the buffet! Buffet will be composed of starters, main courses and desserts for the whole family. A buffet of special courses for the little explorers has also been designed by our Chef.
An entertainment program is also waiting for us inside the restaurant, like Christmas Father passing from table to table!
But don't worry, if you choose to eat at The Captain's Library rather than at La Plantation restaurant, you can enjoy the entertainment program inside the atoll of the Explorers Hotel : Face painting, Wii game, etc.
Discover now all the entertainment program, as well as the Christmas Menu of La Plantation restaurant. You can also read all our Christmas program!
See you soon at the Explorers Hotel !