This year you may have decided to add even more magic to Christmas and spend it with the family at Disneyland Paris? And what if you stayed at the Explorers Hotel?
This year too we have concocted a programme that should appeal to your explorers and their parents too!
Tasty dishes for an unforgettable family dinner!
This year too, our Chef has gone out of his way to propose a varied Christmas buffet (meat, fish, vegetarian dishes, etc.) with something for all the family's taste! Oysters, foie gras, salmon, turkey, yule logs, fruit jellies….All the Christmas delicacies will grace the buffet!
The buffet will be served in our restaurant La Plantation, specially decorated for the occasion, and will consist of starters, main courses and desserts for all the family. Younger children will also have their own special buffet.
As usual, it is an all you can eat buffet! Perfect for the true gourmands! The price includes 20cl of Champagne, 37.5 cl of red or white wine, mineral water and a hot drink per person. And as for alcohol-free drinks, they are unlimited! You may, of course, order another bottle of wine if you wish. But remember, alcohol should always be consumed with moderation!
So without further delay, here is the Christmas menu! Once you've seen it, you will assuredly want to spend Christmas 2016 at the Explorers Hotel and at Disneyland Paris!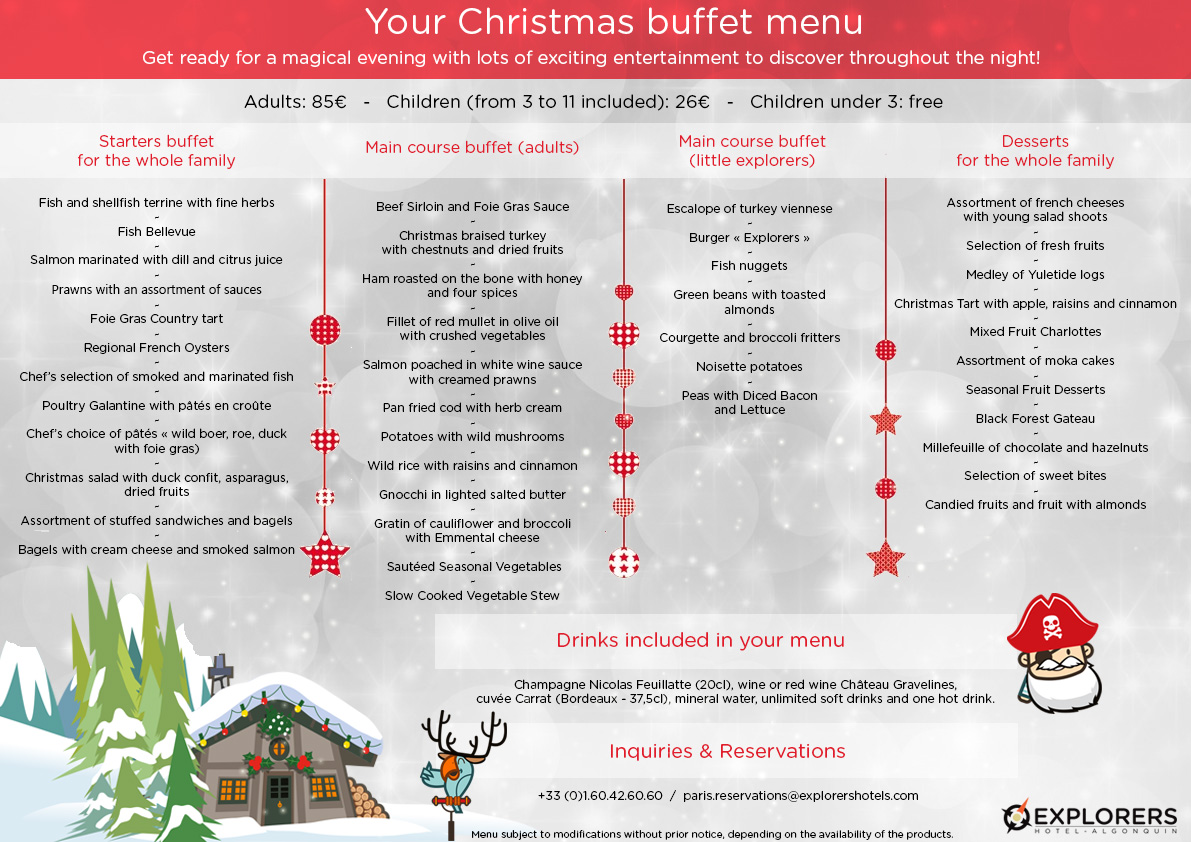 Santa Claus and even more!
Christmas would not be Christmas without the visit of the most awaited bearded old man of the year…. Santa Claus! But that's not all! After your day at Disneyland Paris for Christmas 2016, come and join us at the Explorers Hotel! We have planned a complete programme of entertainment for an unforgettable Christmas with the family!
The La Plantation and the Atoll, the heart of the hotel, will be hosting the entertainment!
– At the La Plantation restaurant:
During dinner, artists will move round the tables to entertain you: a magician, a clown, a balloon sculptor…without forgetting Santa Claus of course!
– In the atoll :
Two stands will be installed in the heart of the hotel:
Face painting for children by a professional make-up artist
Wii stand: you surely know the famous Wii game "Just Dance"? Well get warmed up and join in! The old and the young will have to follow the rhythm and dance to the latest hits projected on a giant screen! Great fun guaranteed for all!
Here are the entertainment details for the evening!