What makes the Explorers Hotel THE family hotel near Disneyland Paris is its magic world filled with pirates and great explorers! Here everything has been thought to make your children's dreams come true from their arrival. Follow the guide! Today, let's discover some pictures of the hotel and its decoration so that you know what awaits you for your next stay. If you are fan of pirates, you won't be disappointed!
Sir Archibald de Bacle's hotel
Do you know that the hotel is Sir Archibald de Bacle's and his right hand man Tom's home? This explorer was asked by Queen Isabella to take all risks and to fight against pirates on African seas to bring her back diamonds. Discover Sir Archibald de Bacle's full story!
Archibald brought back a dragon from its adventures around the world. You will see him when arriving inside the hotel. He still growls and sometimes breathes out smoke through his nostrils!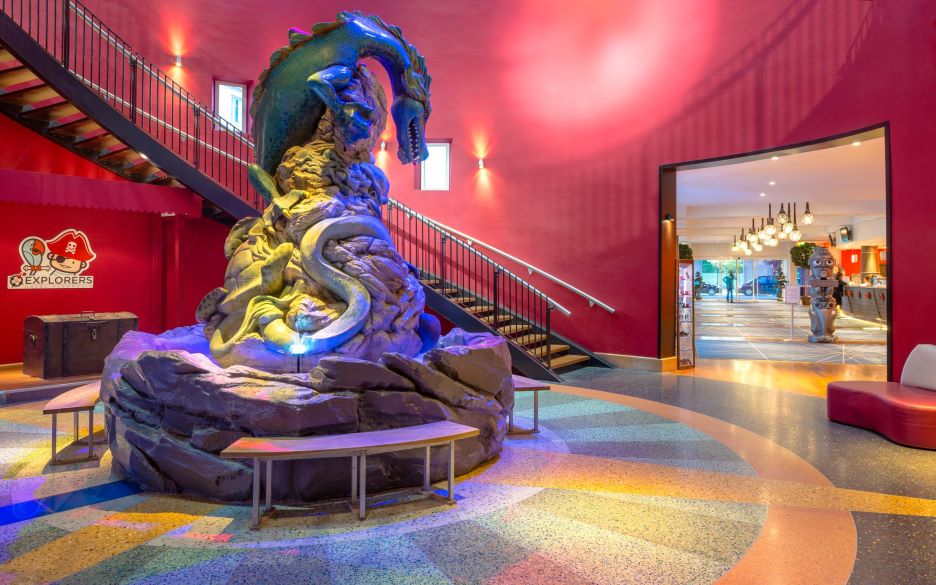 Some ships to go for adventure without leaving the hotel
The Explorers Hotel, the family hotel near Disneyland Paris, also has two ships so that our little explorers can travel and live great adventures. The first one is situated inside the hotel and belongs to one of the most fearsome pirates in the world: the villain of the seven seas! The crew has deserted and wreck is now an excellent training ground for your children… but be careful, watch out for the Pirate who is never far away!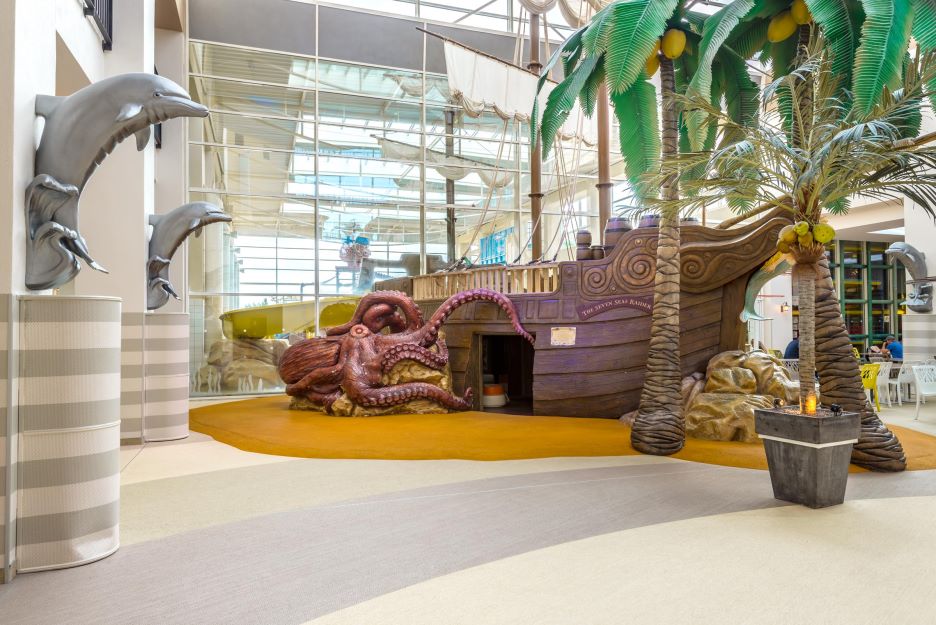 The second one is situated outside, behind the hotel. It belongs to Sir Archibald de Bacle. When the weather is fine, escort your children to the hotel park, and let them take control of Sir Archibald's vessel! Prepare to board!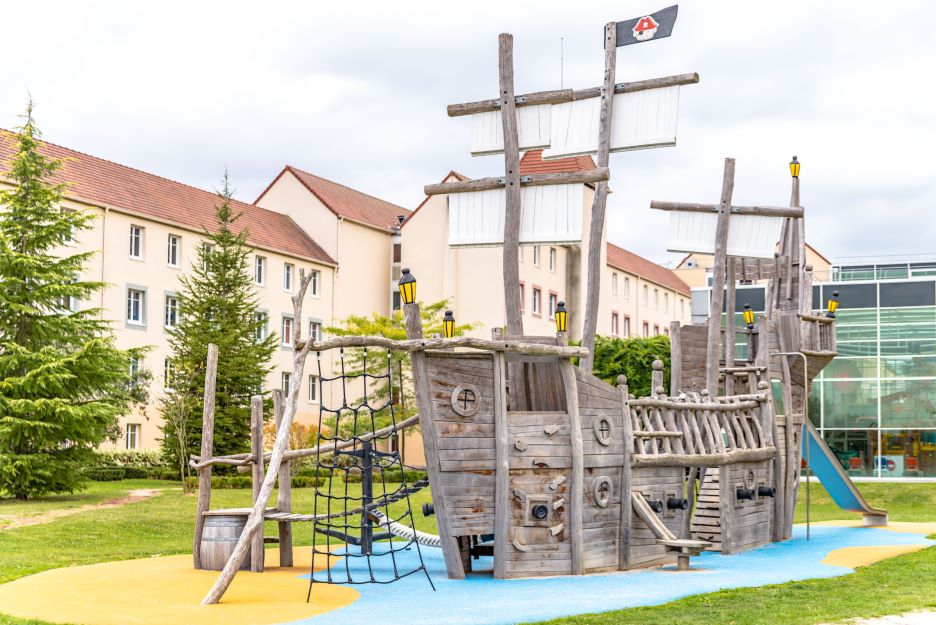 A pirate in the swimming pool! The attraction that makes of the Explorers Hotel THE family hotel near Disneyland Paris
The pirate that children prefer without a doubt is inside our aquapark! This unique aquatic recreation area offers a great experience for children….and the young at heart! Look carefully at the pirate at the top of the ship, and watch him empty his hat on the fearless swimmers! The aquapark is the perfect place to relax with your family before or after spending your day at Disneyland Paris.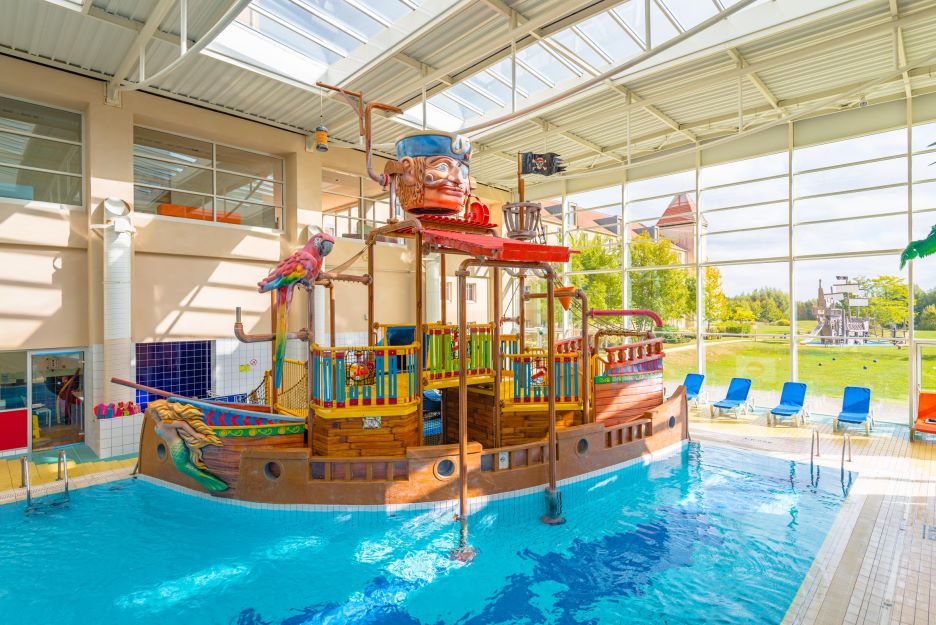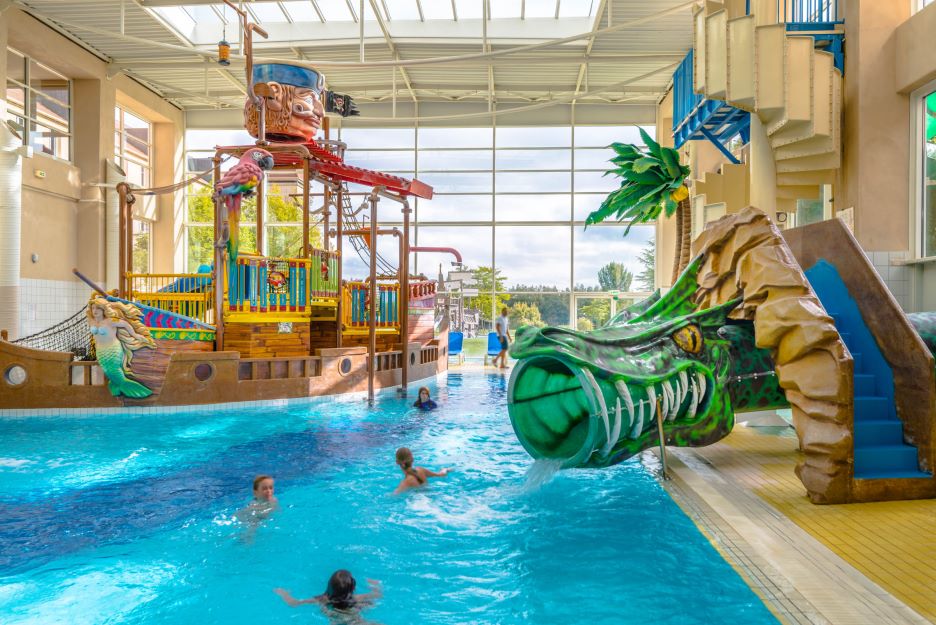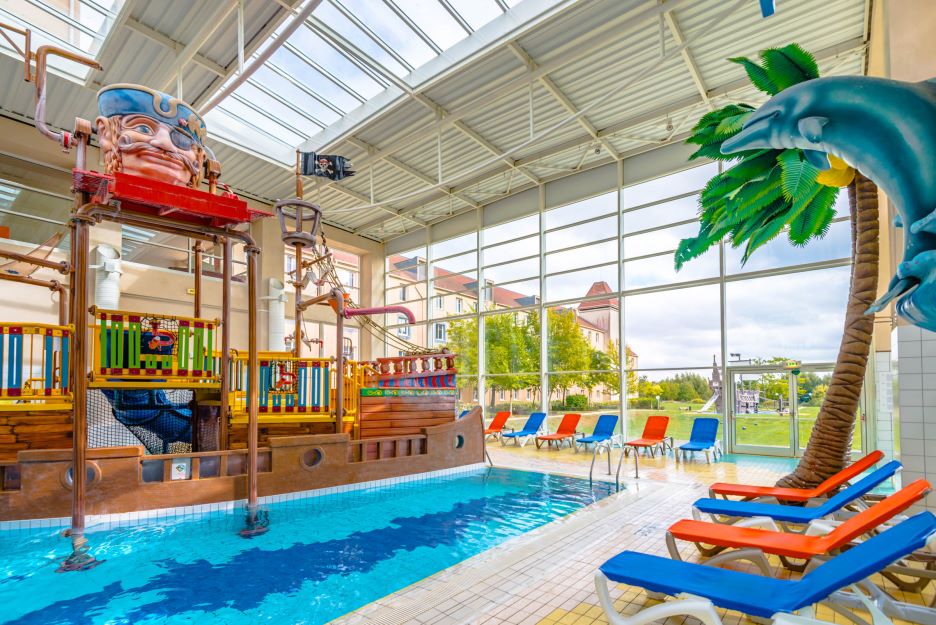 Themed rooms
The magic of the hotel continues inside your room too. Enter one of our family rooms and you will have the impression to navigate.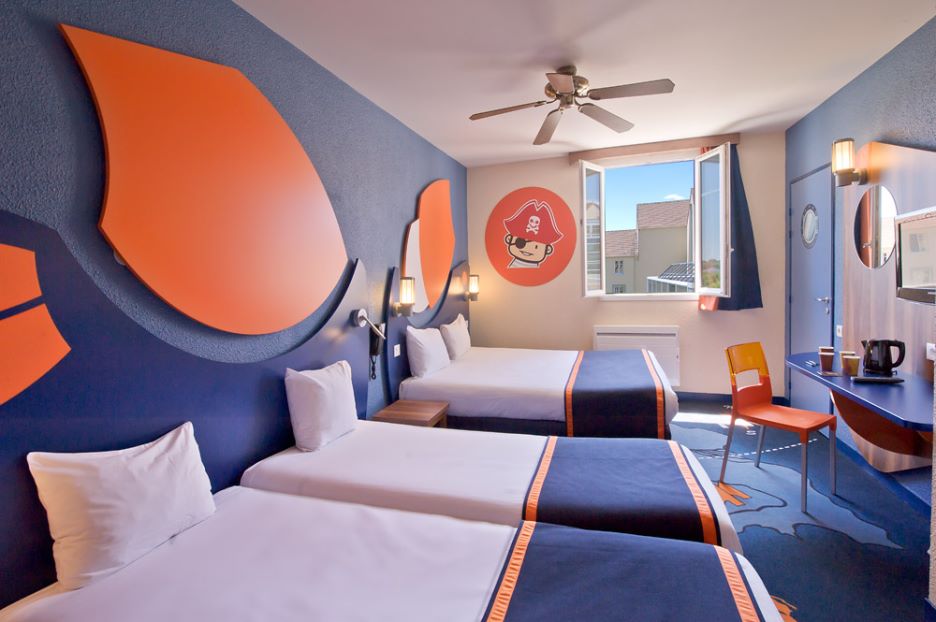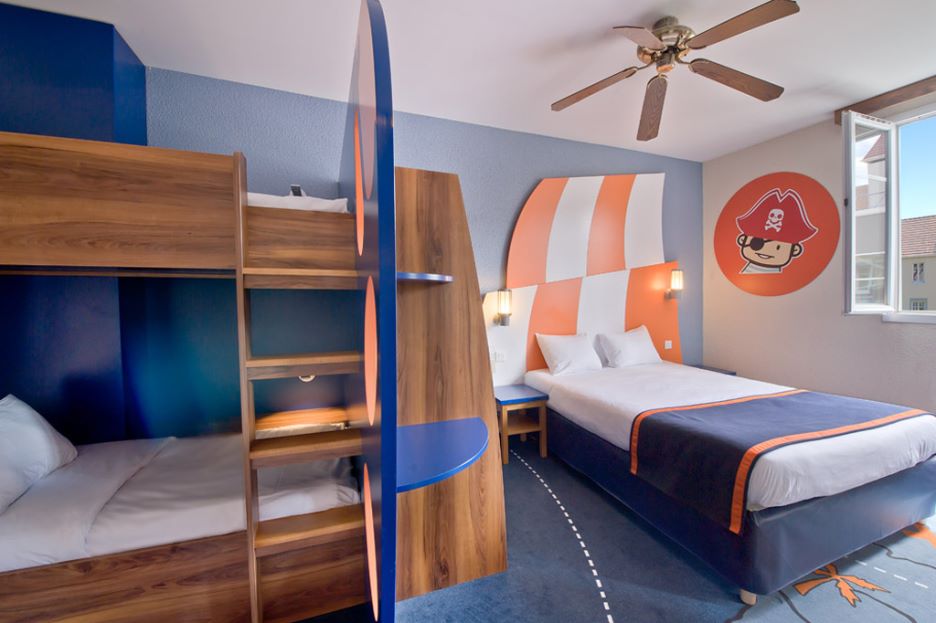 If you feel like going for adventure with your children, book your stay right now on our website or by contacting our booking department: +33 (0)1 60 42 60 60 or 60 61 / paris.reservations@explorershotels.com
Here are some other pictures to discover the rest of our hotel, the family hotel near Disneyland Paris:
Our restaurant The Captain's Library: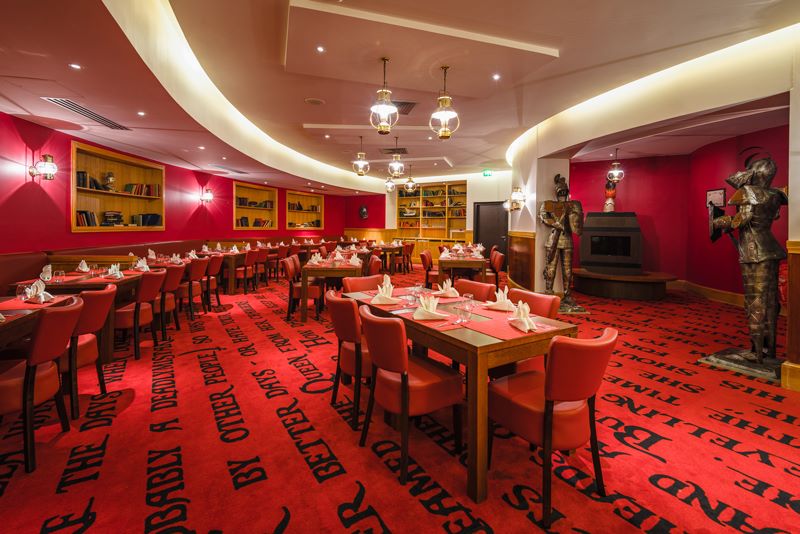 Inside views of the hotel: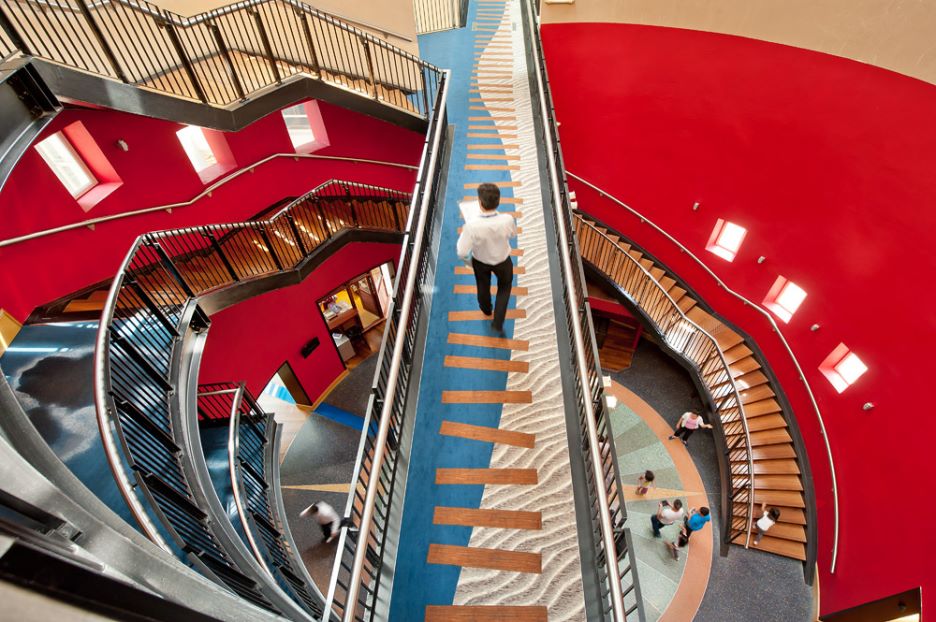 The reception: