As every year, the Captain's Library, our traditional "à la carte" restaurant renews its menu for the summer! Enjoy a relaxing atmosphere in a unique setting that is nothing less than the magnificent Library of the Captain of the Explorers boat! Stop looking for a restaurant at Disneyland ®… The Captain's Library at the Explorers Hotel is exactly what you need.
The Spring-Summer 2019 menu is here!
This summer, our Chef and her teams offer you a delicious summer menu. Open every evening from 6pm to 10pm, The Captain's Library restaurant will amaze your taste buds as the seasons go by. As a reminder, our "à la carte" restaurant as well as our other restaurants are open to everyone, customers or not of the hotel. Enjoy! Let's discover this new menu together…
Hoist the sails, heading to the starters
First of all, find our timeless Caesar salad, our tomatoes accompanied by a delicious piece of burrata or our assortment of tapas. This assortment of tapas consists of kakiage, camembert doughnut, chicken skewer and squid rings with a salsa sauce! New meals have also taken place on our Spring-Summer 2019 menu. Like an incredible exotic starter: marinated shrimp tails, exotic salad, mango, apples, tomatoes, young salad leaves and pomegranate seeds. Moreover, discover our vegetable bruschetta: grilled vegetables on wholemeal bread, feta cheese, black olives and a bouquet of salad.
Discover one of our novelties in this picture: the exotic salad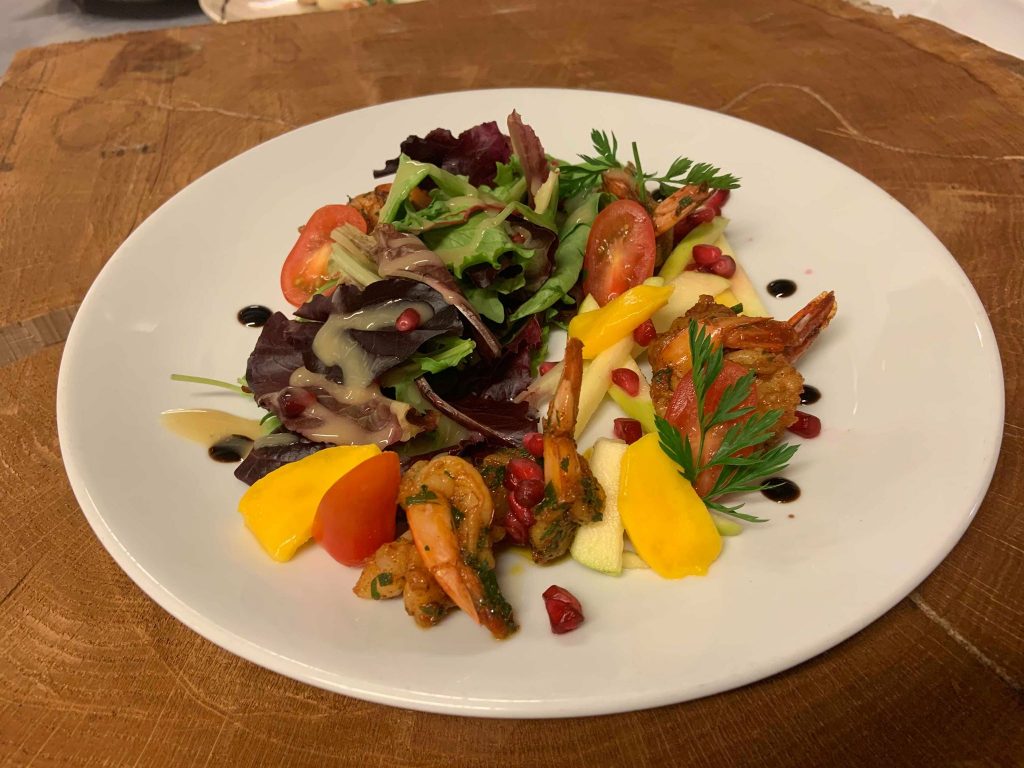 Restaurant at Disneyland ®
Give no quarter on meat meals…
Then, meat lovers will have the pleasure of tasting delicious dishes prepared to meet the desires and expectations of all explorers!
This year, our Chef offers you a culinary travel with an excellent Kefta tagine with beef meatballs accompanied by tomatoes, rice and lettuce. Also find a roasted veal medallion with a tasty creamy morel, tagliatelle and a julienne of vegetables. Our classics meal like our burgers and our Mix Grill plate will also be available throughout the summer.
Discover the Chef's delicious Kefta tagine in the picture below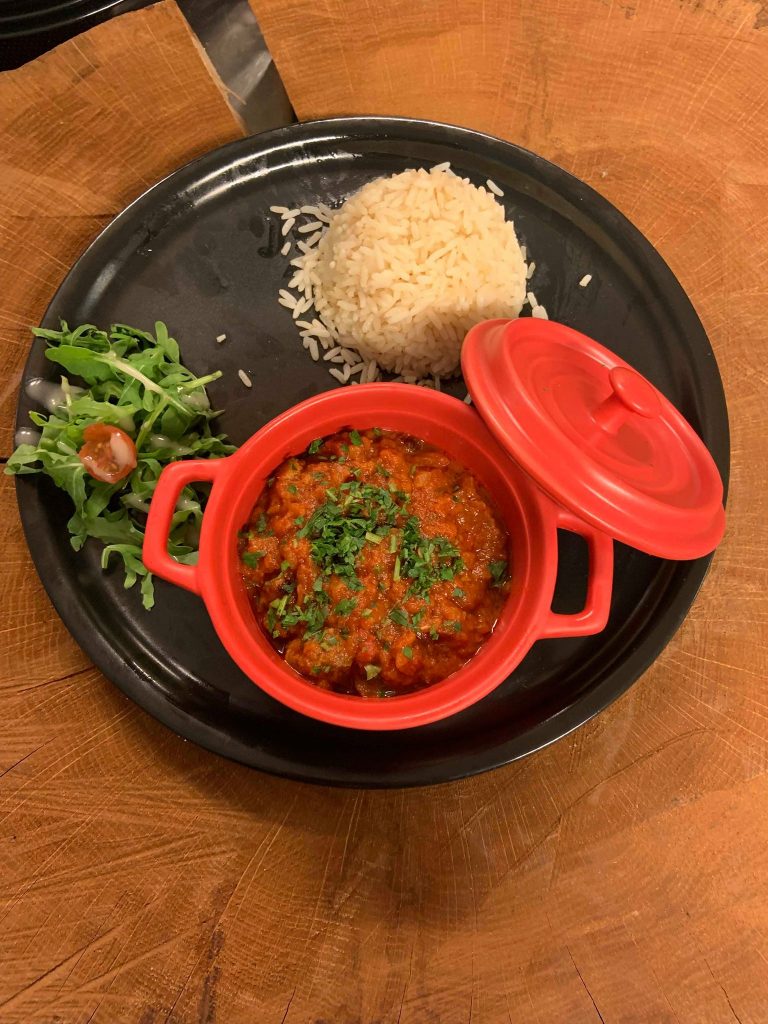 Restaurant at Disneyland ®
… And fish meals!
In addition, two fish dishes will also be available this summer. A cod loin with almond crumble with rice, a julienne of vegetables and seafood juice. Or a salmon brochette, rice, julienne of vegetables and honey and sesame. Light and tasty dishes to enjoy your dinner with family or friends!
Discover the desserts of the new Captain's Library menu, our restaurant at Disneyland ® Paris
Finally, end your meal on a sweet note by choosing our vanilla profiteroles with chocolate sauce and whipped cream, a traditional gourmet coffee or our delicious chocolate cake with ice cream and custard that has been delighting our pirates for many years! Want to cool? Order a fruit salad or make up your ice cream cup (2 to 3 scoops of Movenpick ice cream to choose). This year, new and more original fragrances have taken place in this new menu. Macadamia, salted butter caramel, tiramisu, walnuts and maple syrup… You'll be spoiled for choice!
In addition to these sweet desserts, our cook team also offers you an assortment of cheeses.
A kid's menu for sailors on board!
Reserved for children up to 12 years old, The Captain's Library's children's menu consists of a dish and a dessert for 14 euros. Designed to please children, your little adventurers will be able to choose between delicious kids-friendly dishes like the pirate burger, a delicious fish & ship or a spaghetti with Neapolitan sauce. In addition, regarding the desserts, there are a duo of mini wafers and mini crêpes with whipped cream sauce or even a fromage blanc bowl with strawberry coulis.
Gluten-free menu in a restaurant at Disneyland ® Paris?
Are you intolerant to gluten? When you will be at the restaurant, do not hesitate to ask for our gluten-free menu and/or to inquire directly with our catering service crew. Our crew will be happy to inform you. For your information, the hotel Explorers offers many dishes that fit the needs of everyone in all our restaurants!
Discover the Spring-Summer menu and the gluten-free menu of The Captain's Library in its entirety on our website.
Surprise…
The icing on the cake! The Captain offers you a ticket for the 6D cinema on each 30 euros on your bill. The opportunity to discover our incredible sensational cinema.
The Explorers Hotel welcomes you every day at dinner from 6pm at The Captain's Library, which is located at a few minutes from the Disneyland ® Paris Parks. In addition, two other restaurants are also present on board the hotel. A pizzeria which opens every evening from 5pm to 11pm and an all-you-can-eat buffet which opens every night from 6pm to 10:30pm. In addition, events are regularly organized at the hotel's La Plantation buffet. Follow us on social networks to discover the next events organized on board!