Let's go to Disneyland® Paris for summer holidays, and make your kids happier than ever!
A family hotel with a great water playground.
The temperature is rising at Disneyland® Paris, the good news: The Explorers Hotel is equipped with a great water playground to cool you off. Open daily from 8 am to 10.30 pm, it boasts three slides and a moored pirate ship. Its opening hours are long and will allow you to enjoy before and after a day at the Disneyland® Paris parks. What a delight for the whole family!  Look carefully at the pirate at the top of the ship, and watch him empty his hat on the fearless swimmers below! The large water park will be accessible to you the day of your arrival before the allocation of your room and the day of your departure even after returning the key. Adventurers, do not forget that you will have to wear lycra swimsuits to access the pool. For those who do not own them or who have forgotten them, do not worry, bathing suits are for sale directly at the entrance of the water playground. Also, do not forget your towels! If you prefer to travel light, towels can be hired directly from the water playground reception (2€/towel for the length of the stay).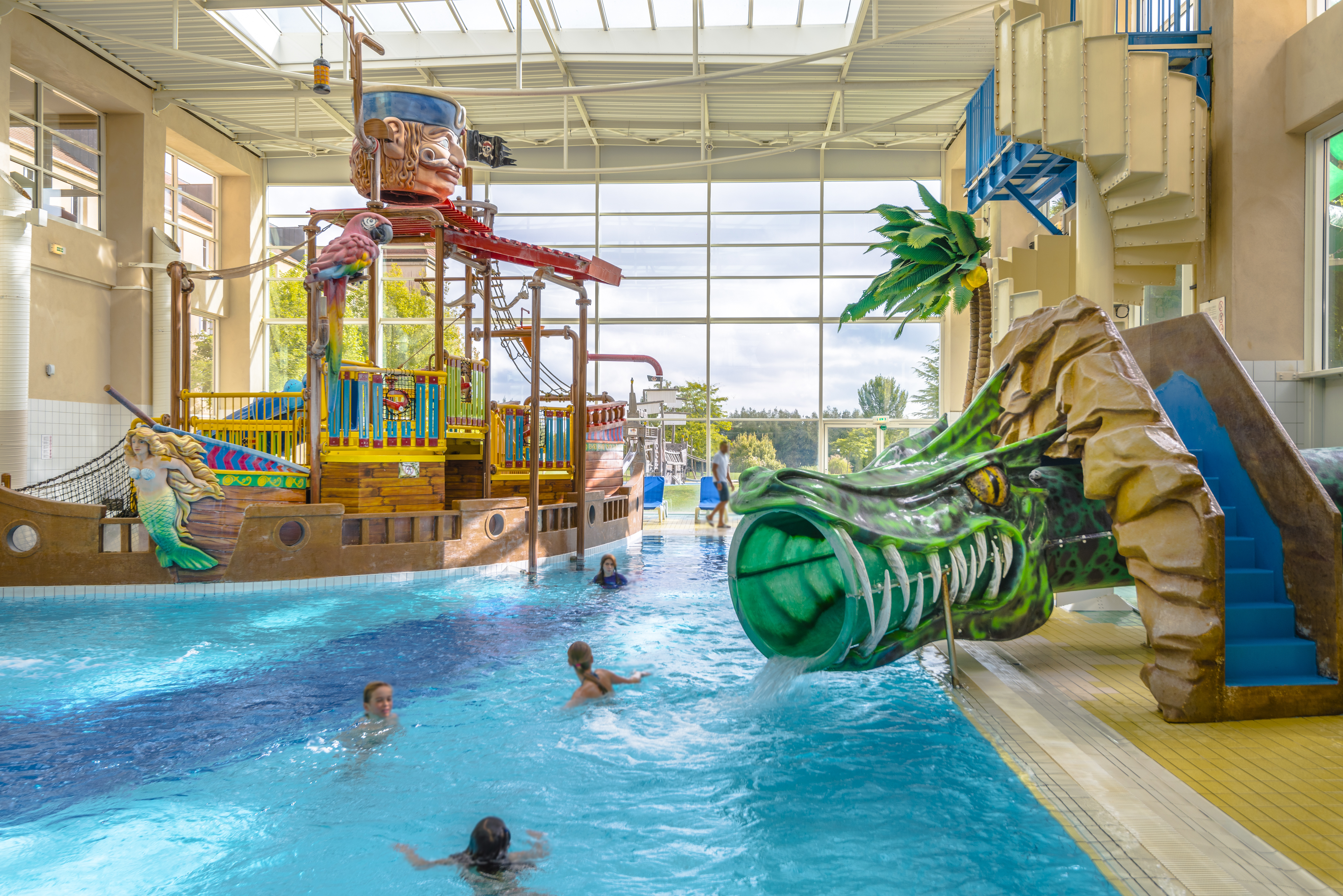 Enjoy natural surroundings are just a stone's throw from the Disneyland® Paris parks.
Our family hotel also benefits from being situated in magnificent green surroundings overlooking the Magny-le-Hongre lake. You can walk there or even go by bike. This natural space, close to the parks of Disneyland® Paris, is equipped with several playgrounds for children. A pirate ship has settled in our garden. Do not wait any longer and take control of the ship of Sir Archibald; Explorer and our founder: he is waiting for you! On the occasion of the arrival of summer, we have also set up a superb inflatable structure to allow your little adventurers to have fun while you can enjoy the sun. On your marks, ready? Play!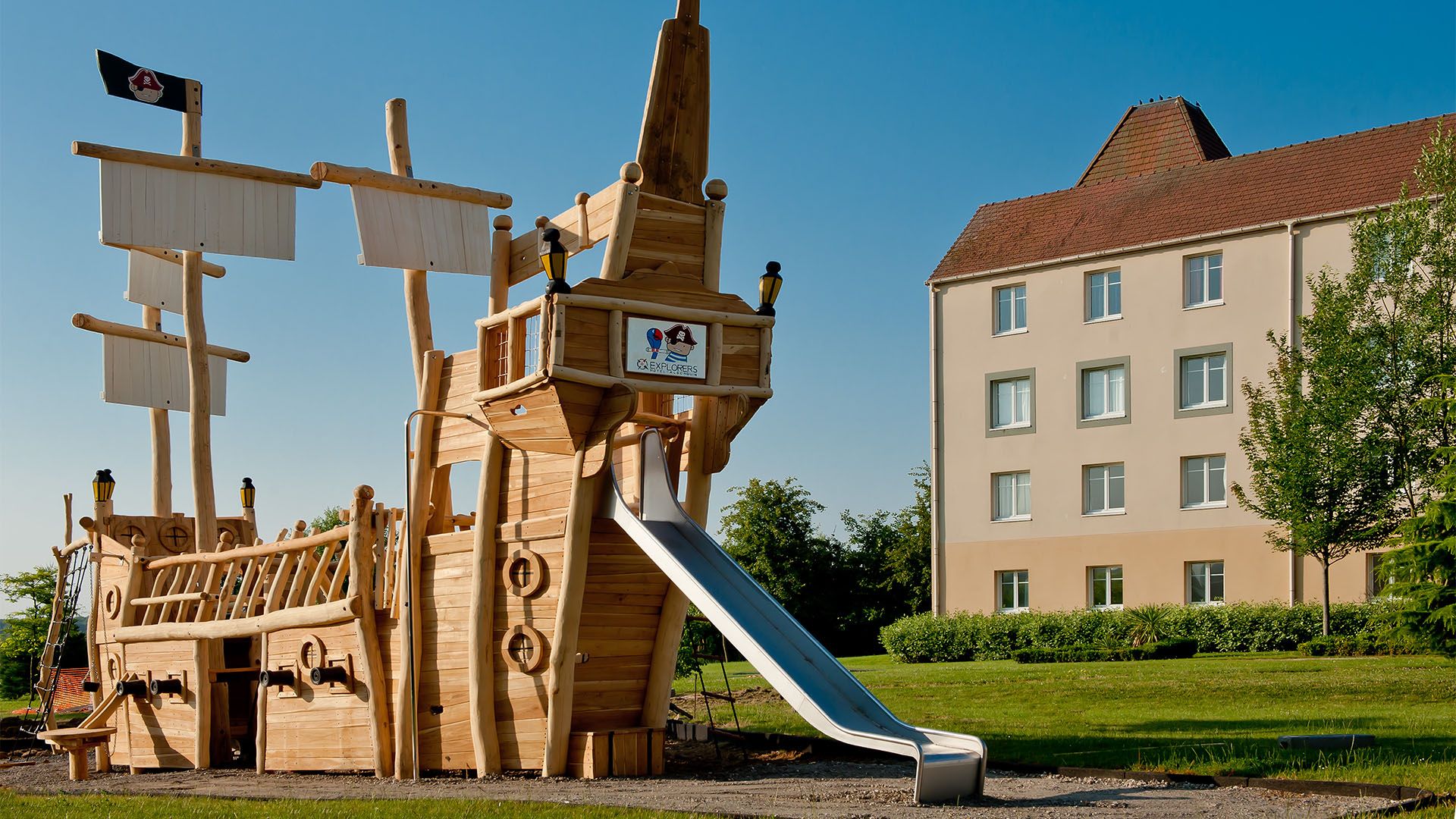 Delicious and refreshing meals.
Finally, the Explorers Hotel is also the perfect place to feast this summer. At breakfast, nothing is better than delicious freshly cut seasonal fruits and succulent fruit juices to refresh you. For a well-deserved break, our gourmet snack-bar, open every day from 4pm to 10pm, is equipped with an ice-cream stand with many choices of flavours: raspberry, pistachio, mango but also cheesecake and Kit Kat. Enough to regain strength after a beautiful day at Disneyland® Paris. And why not accompany this snack with a tasty cocktail? The Trader's Bar is also open daily from 5pm to 11pm. And for happy hour, between 7pm and 8pm, for a drink purchased (draft beers, wines and sodas), we offer you the same.
Feel like a magical stay at Disneyland® Paris for this summer? The Explorers Hotel is the family hotel, with pool, near from the parks. Do not hesitate and book now on our website or via our reservation service at paris.reservations@explorershotels.com or by phone at 01.60.42.60.60 or 01.60.42.60.61.